Prince honours Navy man for sea rescue
For his part in a dramatic and difficult rescue at sea, Petty Officer Airman 'Cags' Lacy was recently presented with the Queen's Gallantry Medal by the Prince of Wales at Buckingham Palace.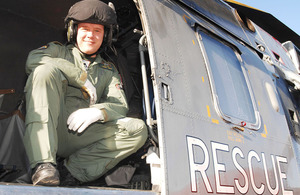 On New Year's Eve 2009, late in the afternoon, Falmouth Coastguard received a mayday call from fishing vessel 'Trevessa' reporting a fire onboard with associated loss of steering some 50 nautical miles (93km) south west of the Isles of Scilly, and that the four-man crew were abandoning ship.
Within an hour of the initial call, Rescue 193, based at Royal Naval Air Station Culdrose in Cornwall, and its four-man crew, including Petty Officer Lacy, arrived on the scene to be greeted with heavy rain, a sea state of 5-6, a wind of 35-40 knots, and of course pitch darkness.
The fishing vessel was dead in the water with no power due to fire damage, but Petty Officer Lacy was lowered onto the pitching and wallowing deck to assess the situation.
On the first descent, PO Lacy managed to hook the heels of his boots over the guardrail, and from there he desperately tried to heave himself onto the deck, but a heavy swell caused the trawler to pitch down and he fell backwards 20 feet (6m) into the icy waters of the Atlantic. He said:
I remember vividly looking up and seeing the greeny glow of the aircraft lights above me. In my headset I could hear someone onboard saying I was underwater. It was quite surreal.
Fully submerged but still attached to the winch wire, he was recovered back into the helicopter.
Despite his ordeal, PO Lacy immediately decided to go back down for a further attempt to board the vessel and, after crew consultation, the aircraft was positioned for a second attempt.
This time a successful hi-line transfer was conducted and, despite the heavy and unpredictable roll of the vessel, PO Lacy co-ordinated the safe evacuation of all four trawlermen from the stern, which took some 50 minutes in the appalling conditions.
PO Lacy has since left the Royal Navy but has remained in aviation, now working for Agusta Westland as an instructor at the Operational Flying Training Centre at Newquay Airport.
He has maintained his links with the Royal Navy as a member of the Royal Naval Reserve Air Branch where he continues to provide part-time support to 771 Naval Air Squadron.
The retention of his experience and skills is invaluable and he is now part of the team of trained and current volunteers available to support the Royal Navy, and the Fleet Air Arm in particular, whenever and wherever it may be required.
Published 11 January 2011