Prince honours Lynx crews for 'keeping the Taliban's heads down'
His Royal Highness Prince Charles presented Afghan service medals this week to members of 1st Regiment Army Air Corps (1 Regt AAC) who have recently been operating Lynx helicopters over Helmand.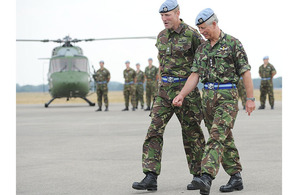 The Prince of Wales, who is the Colonel-in-Chief of the Army Air Corps, visited 1 Regt AAC at their base in Germany.
The Prince was greeted by 1 Regt AAC's Commanding Officer, Lieutenant Colonel James Anderson, after flying into the unit's Princess Royal Barracks in Gutersloh on a Lynx helicopter.
During the medals parade Prince Charles also presented eight Long Service and Good Conduct Medals to soldiers, in recognition of their long service and exemplary conduct, as well as an Accumulated Campaign Service Medal. Flowers were also presented to their partners and families.
The unit, whose members most recently saw service in Afghanistan between September 2009 and March 2010 where they operated the Mark 7 Lynx helicopter, held a special families' day to celebrate the parade which included bouncy castles, a climbing wall, a tug-of-war for children and a performance by the Band of the Corps of Royal Engineers.
After presenting the medals, Prince Charles was introduced to the families and met with the Mayors of Gutersloh and nearby German town Harsewinkel.
In his speech to nearly 200 soldiers on parade, which included many receiving their campaign medals after their first tour in Afghanistan, Prince Charles said:
This is an opportunity to congratulate all those who have earned their Afghan campaign medals and to express my thanks and greatest possible appreciation for what you do.
The Lynx helicopter provides enormous value to the soldiers on the ground in Afghanistan - in one day it can fulfil a number of duties from providing support for convoys and ground vehicles to transporting personnel and equipment. I am told it goes some way to keeping the Taliban's heads down.
Prince Charles, whose son Prince Harry is training to pilot an Apache helicopter with the Army Air Corps, also paid tribute to the soldiers' families. Turning to face them, he said:
I would also like to thank all the families who provide extraordinary support while their loved ones are overseas.
Addressing the soldiers on parade again, he continued:
I'm enormously proud to be your Colonel-in-Chief and to be an Army Air Corps father. I am happy to hear about the Air Corps from Harry who even as I speak is struggling with his own Apache training.
I wish you every success for your upcoming deployment; you are all an enormous credit to the country with your selfless service with endless good humour and professionalism.
Speaking after receiving his medal from Prince Charles, Signaller Lance Corporal Douglas Cawley, aged 29 from Arnside in Cumbria, who was deployed in Kabul organising the movement of armoured vehicles, described how he was both excited and 'a little nervous' to meet his Colonel-in-Chief.
He said:
It's a great honour to have this ceremony and for Prince Charles to present us with our medals. He asked me about my time in Kabul and how the Afghan Army was like to work with.
Commanding Officer of 1 Regt AAC, Lieutenant Colonel Anderson, was delighted with the Prince's visit and pointed to the 'huge' morale boost it will give his soldiers as they begin preparations for a possible return to Afghanistan next year where they will be operating the upgraded Mark 9A Lynx helicopter. He said:
We are delighted that His Royal Highness Prince Charles could be here today - it's a real reward for the soldiers and really means something to them to be presented with their medals by our Colonel-in-Chief.
Our focus now moves back onto preparing for our next operational deployment.
Major General Adrian Bradshaw, General Officer Commanding 1 (UK) Armoured Division, who also presented campaign medals to members of 1 Regt AAC, added:
We are hugely honoured to have His Royal Highness here in Germany to show his appreciation to the members of 1 Regt AAC.
I add my congratulations and thanks to those of His Royal Highness in appreciation of the selfless determination, bravery and hard work of those who have been on operations in Afghanistan, and also to the families who support their loved ones while they are overseas.
Published 29 July 2010