World news story
Prince Harry's visit to the United States
Prince Harry completes week-long tour in the US with visits to Washington, Colorado, New Jersey, New York and Connecticut.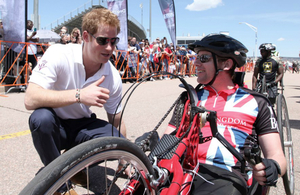 Prince Harry has finished his tour with visits to Washington, Colorado, New Jersey, New York and Connecticut.
While in Washington, Prince Harry viewed an exhibition on land mines from the HALO Trust with Senator John McCain (R-AZ) and attended a reception for the HALO Trust hosted by British Ambassador Sir Peter Westmacott at his residence. Prince Harry became Patron of the organisation in 2013.
At Arlington National Cemetery, Prince Harry, who himself fought in Afghanistan, paid tribute to soldiers killed in Afghanistan and Iraq, laying a wreath at Section 60 of the cemetery. He also laid a wreath at the Tomb of the Unknown Soldier. At Walter Reed National Military Medical Center, he learned about advances in prosthetics for wounded veterans and visited wounded servicemen and women.
While in Colorado, Prince Harry opened the Warrior Games and attended cycling events. He participated in a demonstration of sitting volleyball and met with participants from both the UK and US teams. This marks this second year of the UK's participation in the Games. The United Kingdom won 21 medals, including 4 gold; 7 silver; and 10 bronze medals.
In New Jersey, he joined Governor Chris Christie to tour Mantoloking and Seaside Heights, residential coastal towns that were devastated by Superstorm Sandy.
Arriving on a double-decker New Bus for London, Prince Harry, with Prime Minister David Cameron, met with UK entrepreneurs in support of the Innovation is GREAT campaign in New York. Launched in 2011 by Mr Cameron, the GREAT campaign promotes the UK as the best place to visit, study, work, invest and do business. He also visited Harlem RBI and participated in baseball drills.
While in Connecticut, Prince Harry played in the fourth annual Sentebale Polo Cup, benefiting Sentebale, a charity co-founded with Prince Seeiso of Lesotho, which provides support to children in Lesotho and help victims of extreme poverty and the HIV/AIDS epidemic in the country.
The theme of the Prince's visit was support for injured servicemen and women from both the United States and the United Kingdom. Welfare for veterans and current members of the armed services is a key part of the mission of the Royal Foundation of the Duke and Duchess of Cambridge and Prince Harry.
"We are deeply grateful for the Royal Family's continued willingness to come to the United States," said Ambassador Peter Westmacott.
View photos from Prince Harry's visit on Flickr
Published 20 May 2013