World news story
Prince Harry visits the United States
Prince Harry began a seven-day tour of the USA on 9 May 2013, with visits to Washington DC, Colorado, New York, New Jersey and Connecticut.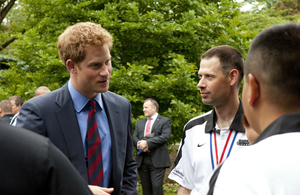 In Washington, Prince Harry will meet with Guy Willoughby of the HALO Trust on Capitol Hill for an exhibition on land mine clearance and attend a reception for the trust at the residence of British Ambassador Sir Peter Westmacott. The HALO Trust is a pioneering landmine clearance charity of which Prince Harry became a patron in March 2013.
While in Washington, Prince Harry, who has himself fought in Afghanistan, will visit Arlington National Cemetery in Virginia to lay wreaths at the tomb of the Unknown Soldier and in Section 60, the resting place for soldiers killed in Iraq and Afghanistan. He will also visit Walter Reed National Military Medical Center to meet recovering wounded personnel and learn more about advances in prosthetics technology.
While in Colorado, Prince Harry will attend several events at the 2013 Warrior Games, including the opening ceremony, cycling and a demonstration of sitting volleyball, and meet with US and UK participants. The UK is the only foreign country to send a contingent to the Games, and 2013 marks the second year of UK participation. The team of 35 athletes consists of members of the Armed Forces, together with staff from Personnel Recovery Centres and the Defence Medical Rehabilitation Centre at Headley Court in Surrey.
In New Jersey, Prince Harry will join Governor Chris Christie on a visit to residential areas impacted by Superstorm Sandy, which caused severe damage to parts of New York and the New Jersey coastline in October 2012.
While in New York, Prince Harry will attend a GREAT campaign event with UK entrepreneurs. The campaign, which Prime Minister David Cameron launched in 2011 in New York, promotes the UK's unique strengths as a place to visit, study, work, invest and do business. Prince Harry will also attend a baseball event with the London Coach Core.
He will also attend a fundraiser for the Royal Foundation of the Duke and Duchess of Cambridge and Prince Harry. The Foundation promotes the welfare of veterans and active servicemen and women and assists young people in building skills and confidence for their future aspirations.
In Greenwich, Connecticut, Prince Harry will play in the fourth annual Sentebale Polo Cup, benefiting Sentebale, a charity he co-founded with Prince Seeiso of Lesotho, which provides support to children in Lesotho and help victims of extreme poverty and the HIV/AIDS epidemic in the country.
Prince Harry's last official visit to the United States was in May 2012, when he met with participants in the 2012 Warrior Games and received the Atlantic Council's Distinguished Humanitarian Award for his and the Royal Foundation's efforts to help wounded veterans. This week's visit will continue the focus on supporting injured British and American servicemen and women from both the UK and US Armed Forces.
Published 9 May 2013