Prince Harry visits New York
HRH explores ways to help returning war veterans and raises money for his charity Sentebale during NY visit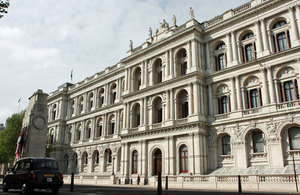 Prince Harry's three day visit to New York, June 25-27, 2010, provided an opportunity for him to show his support for veterans issues, exploring what can be done to help veterans on both sides of the Atlantic when they return from duty in Afghanistan and Iraq. The Prince also raised funds for his charity Sentebale and visited UNICEF to gain a better understanding of international disaster relief.
Prince Harry began his visit at the US Military Academy at West Point. There, he received a briefing on the academy, participated in a live fire exercise with cadets, and observed advance to contact field exercises.
Later in the day, Prince Harry attended a reception on board the Intrepid Sea Air and Space Museum. He spoke about the importance of helping wounded veterans rehabilitate with their peers at home as well as across the Atlantic. "We fight together, and tragically some die together and others are wounded together. On the battlefield, American and British medics strive heroically to treat each others' casualties. Beyond the battlefield though, paths diverge as each country takes back its own. For veterans and those who care for them, trans-Atlantic bonds do hold firm. But I believe that they could still be strengthened. We in Britain can learn from the American culture of philanthropy, and from the great pioneering work in the fields of care, prosthetics and rehabilitation. In turn, I hope we can offer some inspiring examples of our own."
On Saturday, June 26, The Prince toured the UNICEF Emergency Operation Center. He gained a better understanding of the work of UNICEF, specifically how geospatial mapping is being used to more effectively coordinate relief and rescue after a disaster. Joining him was a representative of British charity Map Action, which specializes in mapping crisis areas to allow other relief agencies to coordinate their efforts.
In the afternoon, His Royal Highness (HRH) threw the first pitch at the New York Mets vs Minnesota Twins baseball game at Citi Field to raise awareness for veterans issues on UK Armed Forces Day. Joining Prince Harry for the game were British and American veterans who served in Iraq and Afghanistan. Mets owner Fred Wilpon is a founder of Welcome Back Veterans, a charity which provides support and treatment for returning soldiers suffering with Post Traumatic Stress Disorder.
On Sunday, June 27, The Prince walked with members of The Achilles Freedom Team of Wounded Veterans in the Achilles Hope and Possibility race in Central Park. Freedom Team is comprised of US veterans from Iraq and Afghanistan who are rehabilitating and training to compete in marathons worldwide. For many of the veterans, this was their first race post-injury.
In the afternoon, HRH competed in the Veuve Clicquot Polo Classic. The match, on Governors Island, raised funds for the American Friends of Sentebale, the American arm of The Prince's charity that aids children in Lesotho.
The visit allowed Prince Harry an opportunity to build on many of the relationships he made during his visit to New York in May 2009. During that trip, The Prince paid a visit to a Veterans Affairs hospital as well as a private visit to the USS Intrepid.
Prince Harry visits New York, 25-27 June 2010
Published 7 July 2010