Prince Harry presents medals to Gulf mine warfare sailors
Royal Navy mine warfare sailors received medals from His Royal Highness Prince Harry last week at Portsmouth Naval Base for their recent service in the Gulf.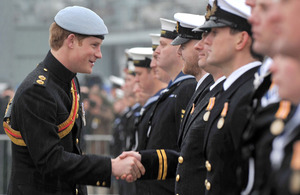 The royal guest, in his role as Commodore Small Ships and Diving, presented TELIC operational service medals to 33 personnel who served with the first and second mine countermeasures squadrons onboard the minehunters HMS Grimsby, Middleton and Pembroke.
HMS Grimsby and Pembroke served in the Gulf between April and December last year and HMS Middleton from last July to January this year, all conducting maritime security operations.
After presenting the medals Prince Harry was given a brief tour of Portsmouth-based minehunter HMS Cattistock - whose crew also recently served in the Gulf region - and a demonstration of her mine warfare equipment. He then met some of the families of the Royal Navy personnel.
Captain Mark Durkin, Captain Mine Warfare and Fishery Protection, said:
It was a proud and memorable day for the Royal Navy's mine warfare community. The sailors felt honoured to be able to tell Prince Harry about their deployment to the Gulf where maritime security operations ensure the right of free passage of maritime traffic and the continuation of maritime trade in the region.
About 60 medals were presented to other sailors on parade by Rear Admiral Chris Snow, Flag Officer Sea Training, and Rear Admiral Peter Hudson, Chief of Staff (Capability).
Published 21 March 2011