News story
Prince Harry opens new navy training facility
His Royal Highness Prince Harry today opened the Royal Navy's newly-built £30 million centre of amphibious excellence in Plymouth.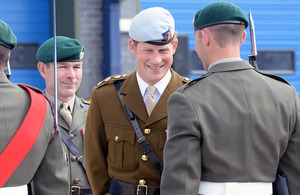 Royal Marines Tamar is the centre of operational and training units for crews of landing craft, hovercraft and fast boats at Her Majesty's Naval Base Devonport.
The royal guest, in his role as Commodore-in-Chief Small Ships and Diving, attended a parade and VIP reception at the centre which also trains assault marines in coastal and river landings.
Prince Harry, a fully trained Apache attack helicopter pilot in the Army Air Corps, unveiled a plaque on the new Tandy Building (named after a D-Day hero marine), after taking the salute and reviewing the guard and parade of Royal Marines Tamar personnel from 1 Assault Group.
Colonel Garth Manger, Commanding Officer of 1 Assault Group Royal Marines, said:
Having Prince Harry open Royal Marines Tamar is a great honour and serves to highlight the importance of this new bespoke amphibious base.

For the first time the Royal Navy will have all the amphibious elements together in one place, ensuring that we deliver real operational capability in a cost effective and professional manner. Prince Harry's presence on this seminal day in 1 Assault Group Royal Marines' history is fantastic and gives the unit a real boost.
Royal Marines Tamar provides vital support for Royal Marines preparing for operations worldwide and amphibious training.
For the first time, it places the units in one location next to their headquarters unit, 1 Assault Group Royal Marines, and alongside the berths for amphibious ships HMS Albion, HMS Bulwark and HMS Ocean.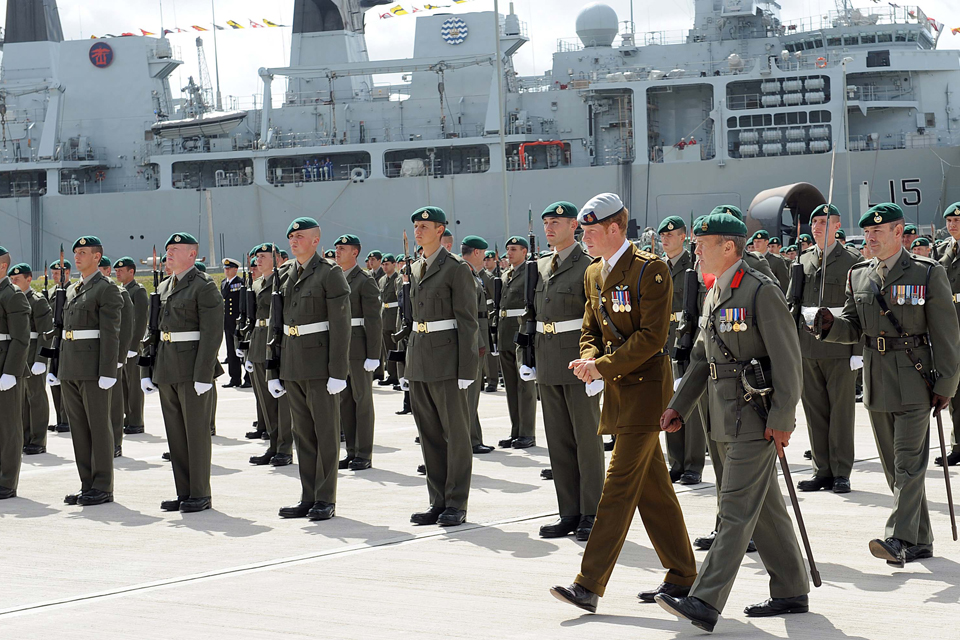 It also houses 300 military personnel (plus up to 132 throughout the year on courses).
1 Assault Group Royal Marines is the lead for amphibious warfare and Royal Navy board and search training. The group is tasked with training and developing core amphibious and surface assault skills, including the provision of operational support for the Ministry of Defence.
One of the new training buildings, the Francis Building, is named after Royal Marines Colour Sergeant Michael Francis for his bravery during the Falklands Conflict. Colonel Manger said:
We are very pleased Prince Harry agreed to unveil the name plaque for this building and it is fitting that Colour Sergeant Francis's family are here today for this event, although Francis himself cannot be. His family are also honoured that his exploits are being recognised in a high profile way.
Colour Sergeant Francis's wife Marie attended with her daughter and grandchildren. She jointly cut the ribbon to open the building with Prince Harry and said:
My husband and all our family are honoured that Prince Harry opened the building in his name. We can't think of a better person to do this.
Royal Marines Tamar comprises the headquarters of 2 units which have colocated: 539 Assault Squadron Royal Marines and 10 (Landing Craft) Training Squadron Royal Marines.
The new facility provides waterfront training rooms, a marina, a jetty, huge maintenance/engineering sheds and workshops, a ship lift and a slipway. Royal Marines Tamar was delivered by the Defence Infrastructure Organisation in partnership with Debut Services (South West) Ltd.
Published 2 August 2013
Last updated 6 August 2013
+ show all updates
Rank of photographer corrected to Chief Petty Officer
First published.