Prince Harry joins wounded soldiers in Pole trek
Prince Harry is joining four wounded servicemen today at the start of their attempt to trek 200 miles (322km) to the North Pole from Longyearbyen in the north of Norway.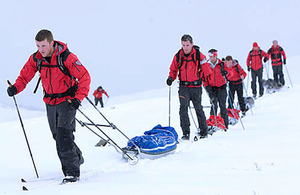 The soldiers are planning to walk to the Pole in just four weeks and aim to raise cash for the charity Walking With The Wounded.
Prince Harry, who is the patron of the charity, is joining the team for the start of the expedition at their base camp in Longyearbyen for three days of training and will then trek with the team for five days as they start their expedition high above the Arctic Circle.
Harry will then leave the ice on 5 April 2011 and return to Britain to pick up his military training.
Two of the four wounded soldiers are amputees. Cavalry officer Captain Guy Disney had his lower leg blown off by a rocket-propelled grenade in Afghanistan in 2009. And paratrooper Private Jaco van Gass had his left arm amputated at the elbow after a similar attack on operations.
Their goal is to become the first amputees to successfully reach the North Pole unsupported.
Fellow paratrooper Captain Martin Hewitt has a paralysed right arm after being shot by Afghan insurgents, and Sergeant Steve Young from the Welsh Guards fractured his back when his vehicle went over a buried mine in Afghanistan.
The four wounded soldiers have been training together for several months. They will be joined by expedition leaders.
The team will have no resupply of provisions throughout their month-long trek, so will have to drag everything they need on foot in heavy arctic sledges called polks.
Accompanying the team will be the charity's founders and one of the world's most experienced polar guides, Inge Solheim.
Prince Harry said:
I am so proud to be patron of Walking With The Wounded. This extraordinary expedition will raise awareness of the debt this country owes to those it sends off to fight - only for them to return wounded and scarred, physically and emotionally.
The debt extends beyond immediate medical care and short-term rehabilitation. These men and women have given so much. We must recognise their sacrifice, be thankful, and, so far as we can ever, repay them for it.
The Walking With The Wounded charity supports other charities that help injured soldiers rebuild their lives. Cash raised from this expedition will be used for educational courses and training programmes to aid rehabilitation back into ordinary life.
Published 29 March 2011