News story
Prince Harry ends his attachment to Army Air Corps
Prince Harry has completed his attachment to 3 Regiment Army Air Corps and will now take up a staff officer role in HQ London District.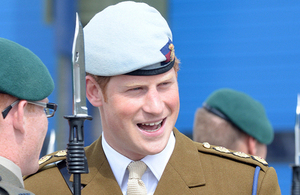 The Prince will take up the position of SO3 (Defence Engagement) and his responsibilities will include helping to co-ordinate significant projects and commemorative events involving the Army in London.
He will retain the rank of captain and be based at Horse Guards in central London.
Prince Harry spent 3-and-a-half years in training and operational service with the Apache helicopter force during his attachment to the Army Air Corps.
He also undertook an operational tour of Afghanistan as an Apache pilot between September 2012 and January 2013, where he worked as part of the Joint Aviation Group which provides helicopter support to the International Security Assistance Force and Afghan security forces.
Lieutenant Colonel Tom de la Rue, who commanded Prince Harry in the Army Air Corps, said:
Captain Wales has reached the pinnacle of flying excellence as an Apache pilot, particularly in Afghanistan, and, in the process, has proved to be a real inspiration to the many Army Air Corps officers and soldiers who have come to know him so well over the last 2 years.
Published 17 January 2014