Prince Harry awarded flying wings
Prince Harry has been awarded his flying wings today following completion of his eight-month pilot's course at the Army Aviation Centre in Middle Wallop.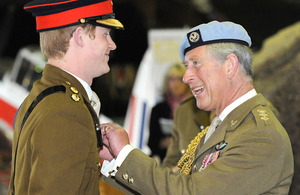 Lieutenant Wales's flying wings were presented to him by his father The Prince of Wales, Colonel-in-Chief of the Army Air Corps, at the Museum of Army Flying also in Middle Wallop.
During his training Prince Harry has learnt to fly the Firefly fixed-wing aircraft and the Squirrel helicopter and has accumulated approximately 220 flying hours.
Lt Wales has been selected from the best the Army Air Corps has to offer to continue his helicopter flying training on Apache attack helicopters.
After a well-earned break, Lt Wales will commence a period of conversion-to-type (how to fly the aircraft) training at the Army Aviation Centre before moving to Wattisham to complete further conversion-to-role (how to fight the aircraft) training.
Prince Harry said:
It is a huge honour to have the chance to train on the Apache, which is an awesome helicopter. There is still a huge mountain for me to climb if I am to pass the Apache training course. To be honest, it will be one of the biggest challenges in my life. I am very determined, though, as I do not want to let down the people who have shown faith in my ability to fly this aircraft on operations. I am really, really pleased.
The decision as to which Apache regiment Lt Wales will serve with has not yet been taken; this will be decided by the end of the year with the Army Air Corps' best interests at heart.
Like any soldier Lt Wales remains ready and willing to deploy; however, deployment is a matter for the chain of command.
Published 7 May 2010