World news story
Prince Harry and Prime Minister David Cameron launch GREAT Global Bus Tour
Tour promotes Britain as a world class destination for trade, tourism, investment and education as part of the GREAT Britain campaign.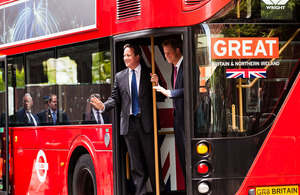 Prince Harry and the Prime Minister launched the tour at Milk Studios in New York City, arriving in style on a special edition GREAT London double decker bus. This marks the first stop of a global tour that will take in four continents and 16 countries, including key markets such as India, Russia and South Korea, over the next 12 months. Two of the eye-catching New Bus for London (NBfL) have been loaned by Transport for London (TfL) to the UK government to help promote Britain abroad.
Prince Harry and the prime minister rode the GREAT bus to an event for the creative and tech community in New York at Milk Studios' Manhattan headquarters. There they met US companies exploring investment in the UK as well as British companies successfully operating in the United States. During the New York leg of the tour, the bus will attend Internet Week New York and NYCx Design, the city's inaugural design festival. The bus is an innovative platform that will help support British companies in developing their overseas markets, generating local interest in investing in Britain, as well as increasing numbers of tourists and students.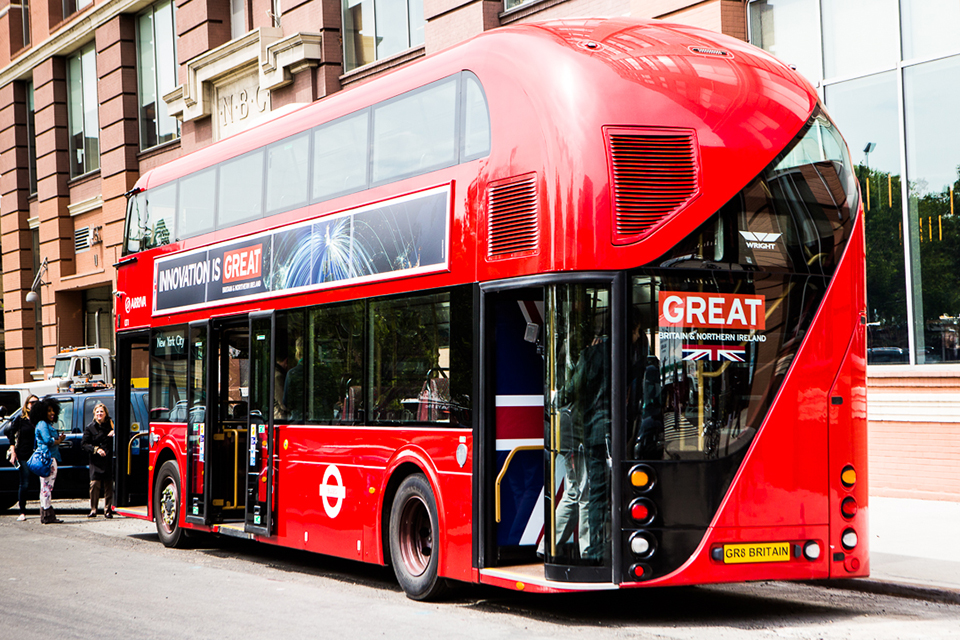 Renowned British designer Thomas Heatherwick created the NBfL to share some of the design DNA of the iconic Routemaster double-decker bus. Built by Wrightbus, one of Northern Ireland's leading manufacturers, the NBfL is a public transport vehicle for the 21st century. The NBfL is fully accessible to the disabled and uses the latest green diesel-electric hybrid technology to increase fuel efficiency. It produces half the carbon dioxide of a conventional diesel bus.
London's Transport Commissioner Sir Peter Hendy CBE said:
London's red buses are recognised the world over as an iconic symbol of our city, with this trip echoing a pioneering journey made by three London buses to the United States and Canada over 60 years ago. It is fitting that the New Bus for London, which was designed, engineered and manufactured in the UK, has been chosen to fly the flag for great British design as part of this prestigious campaign.
Wright Group Managing Director Mark Nodder said:
Being part of the GREAT campaign is a unique opportunity for us to showcase this phenomenal new product. The New Bus for London represents the pinnacle of British automotive engineering design and we are tremendously excited to show the world what we have achieved.
The tour aims to generate sales of this state-of-the-art vehicle. UK Trade & Investment (UKTI) teams will work with Wrightbus to market the NBfL to potential customers.
Further information:
Wrightbus is part of Wright Group, based in Ballymena, Northern Ireland. Established in 1946, the Wright Group employs over 1,400 people and is one of Europe's leading suppliers of accessible public transport vehicles.

Transport for London (TfL) is responsible for the planning, delivery and day-to-day operation of the Capital's public transport system. Its role is to implement the Mayor's Transport Strategy and manage services across London, for which the Mayor has ultimate responsibility. TfL manages London's buses, London Underground (LU), the Docklands Light Railway (DLR), London Overground and London Tramlink. It also runs London River Services (LRS), Victoria Coach Station (VCS), the Emirates Air Line and London Transport Museum. Every day, around 24 million journeys are made on the TfL network. As well as running London's Congestion Charging scheme, it manages a 580km network of main roads, all of the city's 6,000 traffic lights, regulates taxis and the private hire trade, and runs Barclays Cycle Hire. It also works to improve road safety and encourage people to make sustainable travel choices.

The GREAT Britain Campaign was launched by the Prime Minister in New York in September 2011. The aim is to promote Britain abroad as a world class destination for trade, investment, tourism and education, helping generate jobs and growth, shape international perceptions of the UK and enhance our global reputation. The GREAT campaign emphasises Britain's strengths in several key areas, such as creativity, innovation, culture and technology. GREAT brings together the marketing and public diplomacy activities of the FCO, UKTI, VisitBritain and the British Council under one single brand, and ensures that they speak with one voice and have greater impact. The campaign has been deployed extensively across the globe, including by over 180 diplomatic posts in 86 countries. GREAT Campaign activity has had a major global impact, generating at least 5.7 billion opportunities to see and resulting in coverage with an advertising value equivalent of £85 million. An independent evaluation of the first year of campaign activity reported that, against a £37 million spend, the campaign is projected to generate potential returns for the British economy worth over £250 million over the next five years. This projection has since been revised upwards to £450 million. The GREAT Campaign has been nominated for several major marketing awards, including the prestigious Drum Marketing Awards (Brand of the Year).
Contact: Patricia Summers, Vice Consul (Communications): 1-212-745-0251 or patricia.summers@fco.gov.uk.
Published 14 May 2013