Prince Charles visits Olympics air security force at RAF Boulmer
His Royal Highness The Prince of Wales has visited RAF Boulmer to gain an understanding of the integral role that the Station and the Air Surveillance and Control System (ASACS) Force will play in the Olympic air security operation.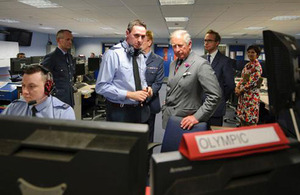 Accompanied by the Lord Lieutenant of the County, the Duchess of Northumberland, the Prince was given an explanation of the airspace restrictions that have been put into place over the London area for the duration of the Games.
His Royal Highness saw how the ASACS Force has the task of compiling a detailed picture of aircraft activity around the London area, ensuring that everything that is flying in the area is meant to be there. As a pilot himself, the Prince was extremely interested in the intricacies of the operation and had a good understanding of the complexities of the task.
It was explained to him that, if an aircraft does not adhere to the regulations, air defence assets can be called in to investigate, and if necessary intervene. These assets include Typhoon aircraft at RAF Northolt, RAF Puma helicopters based at a TA centre in Ilford, Royal Navy and Army Lynx helicopters based at HMS Ocean on the Thames, all with RAF Regiment snipers on board. Army Ground Based Air Defence missiles are also deployed at a number of locations in London.
The challenge for RAF Boulmer personnel over the Olympics is to coordinate and control all these air defence assets in one of the most congested pieces of airspace in the world whilst avoiding disruption to the intensely busy London airports.
Prince Charles later visited the Control and Reporting Centre, housed in an underground bunker, where he chatted to controllers who will be providing 24 hour surveillance of the Olympic airspace. They have been training hard for over a year in a series of exercises with RAF, Army and Royal Navy colleagues, the Civilian Aviation Authority and National Air Traffic Services to ensure that they are fully integrated and ready for the Olympics.
The Station Commander, Group Captain Paul Atkinson said:
It was an honour for RAF Boulmer to host the Prince of Wales. He was very interested in what we are doing across the Air Surveillance and Control System Force, both in the UK and on deployed operations overseas.
The Prince met a cross-section personnel who are executing the Olympics Air Security operation, as well as the normal UK air policing task, and expressed a keen interest in the part that we are playing in ensuring a safe and secure Olympic Games.
Published 31 July 2012