Prince Charles visits Gurkhas and their families
His Royal Highness The Prince of Wales has visited soldiers from 1st Battalion The Royal Gurkha Rifles (1 RGR) on Salisbury Plain, where they are currently engaged in pre-deployment training for Afghanistan.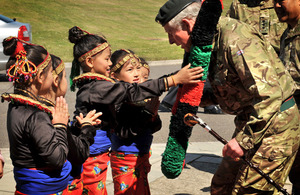 Prince Charles is Colonel-in-Chief of the Royal Gurkha Rifles. During the visit, His Royal Highness presented the Prince of Wales Kukri to Colour Sergeant Jiwan Gurung - an honour reserved for the most exceptional non-commissioned officer in the battalion.
CSgt Jiwan said:
It is a great honour to receive this award from His Royal Highness.
After the presentation Prince Charles flew to 1 RGR's headquarters in Folkestone to meet the rest of the battalion and their families.
His Royal Highness was met by some of the children of members of the battalion, who presented him with a ceremonial garland.
Prince Charles also presented the Elizabeth Cross to the parents of Rifleman Sachin Limbu, who died earlier this year from wounds sustained in Afghanistan.
His Royal Highness then presented an Afghanistan Operational Service Medal to Corporal Haribahadar Budha Magar, who lost his lower legs in an explosion whilst on patrol in Afghanistan and was unable to attend the original medal ceremony, in January 2011, when the Prince presented medals to the rest of the battalion.
Prince Charles later presented the annual Parish Trophy to Rifleman Surash Gurung for being the best Rifleman in the battalion.
While in Folkestone, His Royal Highness took time to lay a wreath at the Royal Gurkha Rifles' memorial wall. A short prayer was said by the Pandit (Hindu religious teacher), and the Last Post and Reveille were sounded by a bugler following a minute's silence.
1 RGR is due to deploy to Afghanistan later this year.
Published 1 May 2012