Prince Charles honours TA armoured reconnaissance regiment
His Royal Highness The Prince of Wales saluted Territorial Army (TA) soldiers from The Queen's Own Yeomanry (QOY) on Saturday as they marched through the streets of Newcastle to celebrate their 40th anniversary and exercise their freedom of the city.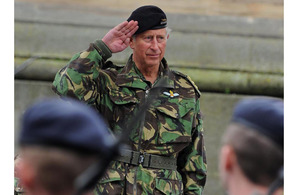 Prince Charles, who is Royal Honorary Colonel of the regiment, welcomed 60 soldiers along with the Duke of Westminster and the Lord Mayor of Newcastle, Councillor Geoff O'Brien, as with drums beating and bayonets fixed the company marched past Grey's Monument on Blackett Street.
The procession was led by 12 Combat Vehicle Reconnaissance (Tracked) [CVR(T)] Scimitar tanks and music was provided by the Band of The Royal Regiment of Fusiliers. A large number of Army cadets and veterans also marched with the soldiers to celebrate the regiment's birthday.
Following the parade His Royal Highness met family and friends of those currently serving in Afghanistan, before joining other civic dignitaries at a service of thanksgiving at St Thomas the Martyr Church in the Haymarket.
Councillor O'Brien said:
We are delighted His Royal Highness The Prince of Wales shared this special day with us. The parade gave us all an opportunity to pay tribute to our Armed Forces and thank them for their continued hard work and dedication in some of the world's most dangerous places.
The Commanding Officer of The Queen's Own Yeomanry, Lieutenant Colonel Simon Graham, said:
It was a real privilege to be awarded the Freedom of Newcastle. In the last forty years we have deployed soldiers all over the world, wherever a conflict has taken place. We currently have 30 QOY serving alongside their regular counterparts in some of the most dangerous parts of Afghanistan.
The QOY has over 80 serving members in Newcastle, and the Freedom of Newcastle brought together the entire regiment - who are based in Belfast, Cupar, Ayr and York - to celebrate 40 years of the regiment in its current form.
There is a real sense of excitement and pride amongst the soldiers today and I would like to thank the Lord Mayor and Council of Newcastle for making it possible.
The QOY is the Territorial Army's only armoured reconnaissance regiment. The regimental headquarters is in Newcastle.
The unit is equipped with the CVR(T) family of armoured reconnaissance vehicles, and currently provides Regular Army regiments with trained Scimitar crewmen reinforcements for operations in Afghanistan and elsewhere in the world.
The Honorary Freedom of the City was originally given to the Northumberland Hussars in 1969, before the squadron became part of The Queen's Own Yeomanry in 1971.
Earlier this year Newcastle City Council's Constitutional Committee decided to extend the privileges connected with this historic honour to The Queen's Own Yeomanry.
Published 11 October 2011