Prince Charles honours naval air staff
His Royal Highness The Prince of Wales presented various medals and awards to personnel at Royal Naval Air Station Culdrose yesterday, Monday 12 July 2010.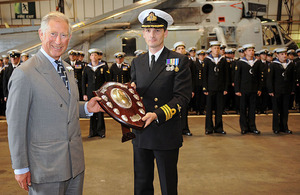 Captain Toby Williamson, the commanding officer of the base, greeted the Prince, who was accompanied by the Lord-Lieutenant of Cornwall, Lady Mary Holborow, and invited him to make the presentations.
The Prince presented Chief Petty Officer Dave Cruse with the Meritorious Service Medal which is awarded only to the most deserving personnel with good, faithful, valuable and meritorious service and conduct judged to be irreproachable.
Warrant Officer Dave Holt's continued Long Service with Good Conduct in the Royal Navy was marked by the presenting of a clasp to go with his Good Conduct Medal.
His Royal Highness also presented Afghanistan campaign medals to fourteen members of 854 and 857 Naval Air Squadrons, both of which are currently tasked on operations in Afghanistan.
To complete the ceremonial part of his visit, His Royal Highness then presented the Australia Shield to Commander Pat Douglas, Commander of the Sea King Force of the Royal Navy.
The Australia Shield, acquired using funds gifted from the people of Australia, is awarded annually to the front line squadron achieving the highest degree of operational capability.
In a break with tradition, the award for 2009/10 has been made to the Sea King Airborne Surveillance and Control Force as a whole, in special recognition of the efforts made by everyone in the force in getting this much needed capability to operations in Afghanistan.
The results achieved so far have exceeded expectations. The two front line squadrons, 854 and 857, augmented by members of the headquarters, continue to be engaged in an enduring roulement in support of coalition troops.
His Royal Highness then met Commander Martin Bravery, Commanding Officer of 829 Naval Air Squadron, and members of his squadron, and was shown around one of the squadron's Merlin helicopters.
Flying mainly from the decks of frigates but also other ships as required, 829 Squadron currently has aircraft deployed around the world engaged on various operations including oil platform protection in the Gulf, anti-piracy operations in the Red Sea and task group generation in the East Atlantic.
Primarily employed as an anti-submarine helicopter and equipped with sonics and sonar systems, the aircraft also contributes to anti-surface warfare. It can carry up to four homing torpedoes or depth charges, for use against submarines, and can provide targeting information via a datalink for the prosecution of surface threats.
After viewing the full mission trainer for airborne surveillance and control training the Prince met the Commanding Officer of 771 Search and Rescue Squadron, Lieutenant Commander Chris Canning, and members of his squadron.
The squadron provides Search and Rescue cover for Cornwall, West Devon and out as far as 200 nautical miles (370 kilometres) into the Atlantic. Search and Rescue jobs range from the recovery of injured crew members aboard ships, pleasure craft or fishing vessels, searching for aircrew who have ejected from fast jet aircraft, rescuing casualties who have fallen down cliffs, searching for missing people, and rescuing swimmers or surfers cut off by the tide, to providing an emergency means of quickly transporting critically-ill patients between hospitals.
771 Squadron also works closely with the Coast Guard rescue teams, the Dartmoor Rescue Group and Falmouth Fire Service to provide a range of cover for a variety of different scenarios.
To complete his visit to Royal Naval Air Station Culdrose, the Prince joined some of the families of naval personnel based at the air station, enjoying a cup of tea with them before leaving for another engagement in Falmouth.
Published 13 July 2010