Prince Charles honours Army helicopter pilots
Army helicopter pilots, ground crew and technicians who have served in Afghanistan were presented with campaign medals by His Royal Highness The Prince of Wales yesterday.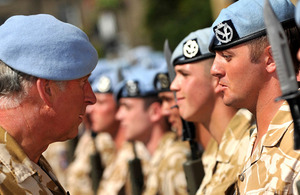 3 Regiment Army Air Corps (3 AAC), based at Wattisham Flying Station, Suffolk, was also awarded the Honorary Freedom of St Edmundsbury, at the presentation in Bury St Edmunds.
Once the Freedom was awarded, the Regiment marched through the town with bayonets fixed accompanied by the Army Air Corps Guidon, showing the Regiment's battle honours. The music for the parade was provided the Army Air Corps Band.
When the parade finished, 110 members of 3 AAC who have recently completed their first tour in Afghanistan were presented with campaign medals by HRH The Prince of Wales, Colonel in Chief of the AAC.
The Regiment recently returned from theatre having held the responsibility for the previous year. During that time they provided three squadrons of approximately 150 soldiers each; comprising pilots, ground crew and technicians that fly and maintain the Army's Apache attack helicopter force in Helmand.
In his speech after the parade, HRH The Prince said:
The town of Bury St Edmonds provided a splendid backdrop for an important day for the officers and soldiers of 3 AAC.
He also mentioned "the era of courageous restraint is upon us" but that armed action is sometimes appropriate with "accurate and lethal force" being brought to bear by the aptly-named call sign 'Ugly' [the Apache].
He concluded by paying tribute to the soldiers' families, saying:
The families play a vital role in sustaining troops and that moral support is crucial to the success of this fine regiment.
Published 23 July 2010