Prime Minister visits veterans with PTSD
During a visit to a centre that helps ex-Service personnel suffering from post-traumatic stress disorder (PTSD) and related conditions, Prime Minister David Cameron said that helping veterans experiencing mental health difficulties is a priority.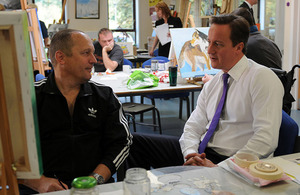 Mr Cameron visited the Combat Stress centre in Surrey last week, following Defence Secretary Dr Liam Fox's announcement of new services for veterans, including a 24-hour helpline and additional mental health nurses. See Related News for more on this.
During the visit to Tyrwhitt House Mr Cameron said:
It is a priority to do more to help the mental health issues that veterans in our country have. The fact is, for many people the mental scars that they have from the time they have served can actually be as serious as or sometimes even worse than the physical scars, and we need to take it much more seriously as a country.
So I'm delighted that we are announcing extra mental health nurses out in the community. We are also announcing a 24-hour helpline so that people can always get hold of help when they need it and also it's important to stress that we are going to work with organisations like Combat Stress that do brilliantly in helping those who bear the mental scars from their service in our Armed Forces.
During his tour of the centre, Mr Cameron spoke to veterans taking part in various activities to help manage their conditions and helped a group making poppies for Remembrance Sunday.
Combat Stress is a charity that currently helps around 4,400 ex-servicemen and women at its three treatment centres in the UK - see their website at Related Links.
Published 11 October 2010