Prime Minister urges schools to beat Bolt to Olympic track
Thousands have already signed up for the School Games.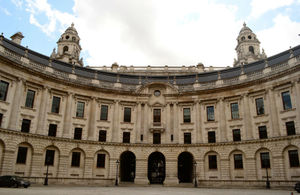 Prime Minister David Cameron has urged schools across the country to follow the lead of those in Thurrock, Essex, and sign up to the School Games.
All bar three of the eligible schools in Thurrock have signed up to take part in the new competition that will culminate with finals being held in May at the Olympic Park.
Speaking at the Newspaper Society event yesterday, the Prime Minister said: "We have got 8,000 schools signed up, with Thurrock leading the way, and I would urge others to join them. There is still time for schools to sign up."
The School Games are fully inclusive and backed by Paralympics GB, encouraging participation in competitive sport across the spectrum of abilities and experience. 
Mr Cameron added that this will be an ideal opportunity for those outside London to be part of the sporting legacy from hosting the Games next summer.
"I want the Olympic spirit to reach every part of the country, not just London," he said. "In May next year, British schoolchildren will run on the Olympic track before Usain Bolt; they are going to be swimming in the Aquatic Centre before Rebecca Adlington; they are going to be racing in the Velodrome before Chris Hoy."
The new School Games format, announced by Culture Secretary Jeremy Hunt last February, has been planned to motivate and inspire millions of young people across the country to take part in more competitive sport. Designed across four levels, for both primary and secondary school pupils, the School Games offer a fantastic opportunity for all young people to compete in intra-school, inter-school and regional competitions.
Commenting on the latest figures for the number of schools that have signed up in each Local Authority (see the full breakdown), Mr Hunt said; "I would like to join the Prime Minister in congratulating those schools who have already signed up and urge even more to get on board. The School Games competition is a big part of the sporting legacy from London 2012 and I can't think of a better way to start the first finals than by staging them at the Park before the world's best athletes arrive."
Further information
Local Authority Schools participating
 Barking and Dagenham  27
 Barnet  68
 Barnsley  57
 Bath and North East Somerset  34
 Bedford  23
 Bexley  42
 Birmingham  183
 Blackburn with Darwen  29
 Blackpool  41
 Bolton  53
 Bournemouth  16
 Bracknell Forest  14
 Bradford  70
 Brent  34
 Brighton and Hove  12
 Bristol, City of  35
 Bromley  25
 Buckinghamshire  82
 Bury  32
 Calderdale  36
 Cambridgeshire  119
 Camden  28
 Central Bedfordshire  58
 Cheshire East  57
 Cheshire West and Chester  119
 Cornwall  59
 Coventry  24
 Croydon  37
 Cumbria  84
 Darlington  30
 Derby  28
 Derbyshire  8
 Devon  118
 Doncaster  11
 Dorset  100
 Dudley  48
 Durham  106
 Ealing  36
 East Riding of Yorkshire  65
 East Sussex  70
 Enfield  8
 Essex  263
 Gateshead  21
 Gloucestershire  84
 Greenwich  68
 Guernsey Offshore Establishments  2
 Hackney  8
 Halton  2
 Hammersmith and Fulham  12
 Hampshire  197
 Haringey  12
 Harrow  29
 Hartlepool  37
 Havering  46
 Herefordshire  25
 Hertfordshire  159
 Hillingdon  22
 Hounslow  51
 Isle of Wight  9
 Islington  12
 Kensington and Chelsea  5
 Kent  175
 Kingston upon Hull, City of  43
 Kingston upon Thames  21
 Kirklees  55
 Knowsley  58
 Lambeth  20
 Lancashire  221
 Leeds  186
 Leicester  42
 Leicestershire  88
 Lewisham  26
 Lincolnshire  155
 Liverpool  109
 Luton  19
 Manchester  75
 Medway  22
 Merton  26
 Middlesbrough  18
 Milton Keynes  31
 Newcastle upon Tyne  22
 Newham  33
 Norfolk  6
 North East Lincolnshire  7
 North Lincolnshire  29
 North Somerset  44
 North Tyneside  13
 North Yorkshire  74
 Northamptonshire  55
 Northumberland  45
 Nottingham  33
 Nottinghamshire  141
 Oldham  33
 Oxfordshire  113
 Peterborough  26
 Plymouth  56
 Poole  20
 Portsmouth  15
 Reading  32
 Redbridge  19
 Redcar and Cleveland  17
 Richmond upon Thames  15
 Rochdale  15
 Rotherham  41
 Rutland  12
 Salford  51
 Sandwell  49
 Sefton  94
 Sheffield  84
 Shropshire  64
 Slough  39
 Solihull  31
 Somerset  58
 South Gloucestershire  24
 South Tyneside  11
 Southampton  11
 Southend-on-Sea  45
 Southwark  15
 St. Helens  25
 Staffordshire  227
 Stockport  35
 Stockton-on-Tees  8
 Stoke-on-Trent  46
 Suffolk  175
 Sunderland  17
 Surrey  87
 Sutton  26
 Swindon  22
 Tameside  49
 Telford and Wrekin  33
 Thurrock  55
 Torbay  10
 Tower Hamlets  7
 Trafford  37
 Wakefield  15
 Walsall  69
 Waltham Forest  7
 Wandsworth  58
 Warrington  48
 Warwickshire  93
 West Berkshire  18
 West Sussex  88
 Westminster  5
 Wigan  14
 Wiltshire  80
 Windsor and Maidenhead  35
 Wirral  125
 Wokingham  24
 Wolverhampton  50
 Worcestershire  161
 York  16
Published 21 October 2011