World news story
Prime Minister Theresa May's message on the Western Balkans
The Prime Minister pledges the UK´s longstanding and enduring commitment to the region.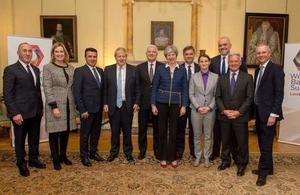 When I join other international leaders at the EU's Western Balkans Summit in Bulgaria today, I will focus on how the UK can help build the foundations for lasting stability and greater prosperity for all.
The region's recent past has undoubtedly been difficult, and Albania, Bosnia and Herzegovina, Kosovo, Macedonia, Montenegro, and Serbia still face many threats to progress today.
Serious and organised crime. Corruption. Terrorism. Youth unemployment. Illegal migration. Religious and political extremism.
Left unmet, these challenges risk undermining hard-won progress and becoming a barrier further growth and reform.
So it is in our interests to work together with the region to address these common challenges, which are faced not just by the six nations of the Western Balkans, but by countries right across Europe and around the world.
Tackling such threats will be high on the agenda at the Western Balkans Summit held in London in July, because history tells us that if the Western Balkans are stable and secure, then all of Europe is more stable and secure. Our interests and yours are entwined, and will remain so.
The London summit will look to strengthen regional security cooperation to tackle common threats such as corruption and organised crime; improve economic stability and the business environment; and foster greater political cooperation to help the Western Balkans resolve bilateral disputes and overcome legacy issues stemming from the conflicts of the 1990s.
Our summit, the fifth convened under the Berlin Process, along with the Sofia summit and other high-level meetings this year are a very real demonstration that the Western Balkans are firmly back at the top of the European political agenda, with the UK standing solidly beside them.
The UK has a longstanding and enduring commitment to the region - seen through our leading role in the struggles of the nineties, the peace agreements that followed, and the post-conflict transition- and I want to assure you that this is set to continue.
In Kosovo, we are celebrating a decade of diplomatic relations, as the first country to recognise Kosovo's independence. We are helping Kosovo look to the future by building confidence in senior public appointments through our flagship recruitment project, which helps to fight corruption and nepotism.
Next year the UK is leaving the European Union, but we are not leaving Europe – and we will continue to champion the European values that so many in the Western Balkans share.
The government I lead will always stand alongside those who want to defend those values. And I believe that, by working together, we can overcome the challenges of today, and secure a brighter, stronger, more prosperous tomorrow for the Western Balkans and for all of us in Europe.
Published 17 May 2018