Prime Minister praises military effort in Libyan evacuations
In an update to the House of Commons, Prime Minister David Cameron has praised the British Armed Forces for their ongoing work supporting the Foreign and Commonwealth Office (FCO) in safely evacuating British and other foreign nationals from Libya.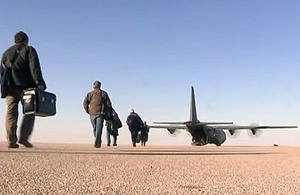 The Prime Minister said:
I'm sure the whole House will want to put on record its thanks to all those who have made the rescue effort possible; to the skill of the RAF pilots, and to all those involved from all three Armed Services; to our diplomatic service, and to all those who put themselves in harm's way to help our people leave safely.
As part of this mission, a small Operational Liaison and Reconnaissance Team deployed to Tripoli to support the Ambassador there in planning evacuation activities, and work commenced to pre-position a range of Defence assets to stand ready to assist in the civilian evacuation efforts.
Planning and operational management of the military support has been conducted by the Joint Task Force Headquarters, a deployable headquarters led by Brigadier James Bashall. Their role throughout the crisis has been to act as the forward command and control of the UK evacuation operations and to provide support to the FCO.
Brigadier Bashall also continues to chair the multinational Non-Combatant Evacuation Operation Coordination Cell in the British High Commission in Malta, which is coordinating the international military evacuation operations.
Military operations to evacuate entitled personnel began on Thursday, 24 February, when an RAF C-130 aircraft collected 64 passengers from Tripoli airport, 51 of which were British, flying them to safety in Malta.
HMS Cumberland has been involved in two missions to the Libyan port town of Benghazi - coming to the rescue of over 200 evacuees on Friday, of which around 50 were British citizens, and picking up around another 200 entitled persons on Sunday, including around 50 British nationals.
In combined Royal Air Force and Special Forces operations, C-130 Hercules aircraft flew into Libya to recover UK citizens stranded at remote oil installations.
The first operation, which took place on Saturday, recovered around 170 people from desert locations south of Benghazi. About 70 of these were British. The second operation into the eastern Libyan desert on Sunday rescued nearly 200 stranded civilians, of which about 20 were UK nationals.
During the second operation, one of the C-130s appears to have suffered minor damage consistent with small arms fire. Although there were no injuries to passengers or crew, the incident shows how challenging the operating environment has been for our forces assisting the evacuation efforts.
Both desert operations were supported by Sentry E3-D aircraft from RAF Waddington, and VC10 air-to-air refuelling tanker aircraft.
Throughout these operations, other Defence assets have remained poised to assist as required:
RAF CH-47 Chinook helicopters deployed to Malta

HMS York arrived in the region on Saturday and remains on standby

Troops from 3rd Battalion The Royal Regiment of Scotland who form the Spearhead Lead Element were put on shortened notice to move in the UK.
The official spokesperson for the Chief of the Defence Staff, Major General John Lorimer, said:
Our military operations over the last few days have shown the British Armed Forces at their very best.
From advanced planning, complex command and control of multiple capabilities, to precise and timely execution, our military personnel have responded brilliantly.
As the Prime Minister has recognised, those servicemen and women who have been involved in the evacuation of UK and foreign nationals from Libya are right to be proud of their efforts; they have demonstrated exceptional professionalism, flexibility and compassion in what has proved to be a fast-moving and complicated operation.
Published 28 February 2011