Press release
Prime Minister pays tribute to Lord Carrington
Prime Minister Theresa May has spoken about Lord Peter Carrington who has died at the age of 99.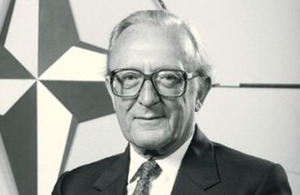 The Prime Minister Theresa May said:
The death of Peter Carrington at the age of 99 marks the end of an era and the loss of a statesman who was respected globally for his remarkable lifetime of public service.

There can be few people who have served our country for as long, and with such dedication, as Lord Carrington did – from his gallantry as a tank commander in the Second World War, for which he was awarded the Military Cross, to his service in Government under two Monarchs and six Prime Ministers, dating back to Winston Churchill.

He was a much loved and widely respected member of the House of Lords for nearly eight decades, and served with great honour and integrity in Government as Foreign Secretary, Defence Secretary, Leader of the House of Lords, Chairman of the Conservative Party and much more besides. These were qualities that he also brought to bear as a highly esteemed Secretary General of NATO – and, in the week of the NATO Summit, I know that my fellow leaders will join me in offering our gratitude for his lifetime of service and our deepest condolences to his family.
Published 10 July 2018