Prime Minister pays tribute to British troops in Sangin
Prime Minister David Cameron has paid tribute to the "huge achievements" made by British troops in Sangin Province in Afghanistan.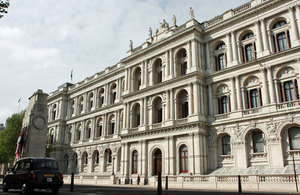 This follows the International Security Assistance Forces (ISAF) announcement yesterday that the British Forces in Southern Afghanistan have handed responsibility for security in Sangin to US forces.
The Prime Minister said the announcement was "the right decision for the right reasons" and would enable the UK to share the burden properly with its allies and concentrate its forces where they will have the maximum impact.
See the video on the Prime Minister's website
Published 21 September 2010