Prime Minister lights up Olympic Stadium for the first time
Local school children join PM for milestone moment on 2012 day.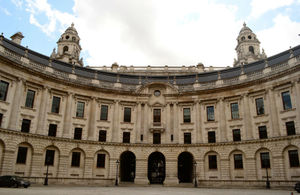 The Prime Minister, David Cameron, and local school children from the five 2012 host boroughs visited the Olympic Stadium on Monday 20 December (20/12, or 2012 day) to officially turn on the flagship venue's floodlights for the first time.
"London's Olympic Stadium is breathtaking. Seeing it lit up, like it will be for 2012 and beyond, is incredibly exciting," said Culture Secretary, Jeremy Hunt. "The switching on of the lights is a huge milestone in our preparations for what will be a fantastic Games in 2012."
Major milestone
A 1,000-strong audience of Olympic Park workforce, local community and schoolchildren, joined Seb Coe and Boris Johnson to watch the Stadium light up.
The event was a major milestone for the London 2012 Olympic and Paralympic project. There are more than 532 individual floodlights housed in 15 towers suspended 70 meters above the field of play, all helping to ensure that the sporting action is illuminated and meets high definition TV standards.
Further information
Published 13 August 2012