Prime Minister David Cameron's visit to Turkey
Prime Minister David Cameron and Foreign Secretary William Hague visited Turkey's capital Ankara on 26 - 27 July.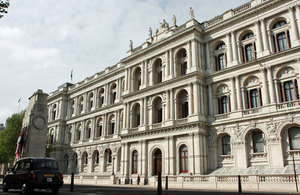 During the trip the Prime Minister held bilateral talks with Turkish Prime Minister Recep Tayyip Erdogan, followed by a joint press conference. The Prime Minister laid a wreath at the Anitkabir mausoleum of the founder of modern Turkey, Mustafa Kemal Ataturk in Ankara. He also gave a keynote speech strongly supporting Turkey's accession to the EU to Turkish business leaders at Turkey's Union of Chambers and Commodity Exchanges which was screened live on the BBC and Turkish TV networks.
The trip culminated with the signing of a UK-Turkey strategic partnership covering a range of areas of cooperation, including trade and investment, energy, defence and security. Both leaders discussed Turkey's EU accession aspirations, enhancing trade and investment, and regional issues. Foreign Secretary William Hague also had talks with Turkish Foreign Minister, Ahmet Davutoglu, who recently visited London.
Cameron visit to Turkey
Published 29 July 2010