News story
Prime Minister David Cameron outlines his G8 priorities at Davos
UK's G8 Presidency will prioritise trade, tax and transparency to encourage global economic growth.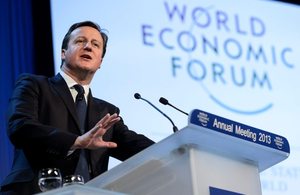 The Prime Minister set out his agenda for the UK's G8 Presidency in a speech at the World Economic Forum in Davos. He explained that his G8 priorities will focus on advancing trade, ensuring tax compliance and promoting greater transparency, in order to drive lasting global prosperity.
Trade
On trade, the Prime Minister announced that he wants the UK's G8 Presidency to advance trade to promote world-wide economic growth.
First we're going to push for more openness on trade… in the European Union we're about to embark on our biggest ever programme of free trade agreement negotiations and of course there's the beginning of negotiations on an EU US trade deal … A deal between us could add over fifty billion pounds to the EU economy alone … and create over two million jobs across the European Union.
This means working through the World Trade Organisation to agree a deal to sweep away trade bureaucracy… That alone could be worth around seventy billion dollars to the global economy and help trade to flow freely across the world.
Tax
On tax, the Prime Minister wants to concentrate the efforts of the G8 on ensuring tax compliance in developed and developing countries alike. The UK's G8 Presidency will focus on strengthening international tax standards and working with developing countries to enable them to collect tax that is due to them.
We want to use the G8 to drive a more serious debate on tax evasion and tax avoidance. This is an issue whose time has come. After years of abuse people across the planet are rightly calling for more action and most importantly there is gathering political will to actually do something about it.
The fact is the poorer the nation the more they need the tax revenues but often the weaker the capacity they have to collect them. All of this in developed and developing countries alike comes down to a simple issue of fairness.
Transparency
On transparency, the Prime Minister noted that open societies and open governments will help drive lasting global prosperity. The G8 has a long history of advancing the development agenda and the G8 in 2013 will focus on getting its own house in order, and helping developing countries to prosper in the process.
I want this G8 to lead a big push for transparency across the developing world. So we're going to push for more transparency on who owns companies, on who's buying up land and for what purpose. We can be the generation that eradicates absolute poverty in our world but we'll only achieve that if we break the vicious cycle and treat the causes of poverty and not just its symptoms.
The combined action on trade, tax and transparency during the UK's G8 Presidency will aim to lay the foundations of long-term growth and prosperity for generations to come, underpinned by the development of open economies, open governments and open societies.
Follow the Twitter channel for the UK Presidency @G8 or follow #G8UK
Published 25 January 2013
Last updated 10 April 2013
+ show all updates
Added Twitter links
Addition of homepage link
First published.