Prime Minister David Cameron meets Governor Schwarzenegger
Prime Minister David Cameron has held talks with Governor of California Arnold Schwarzenegger at Number 10.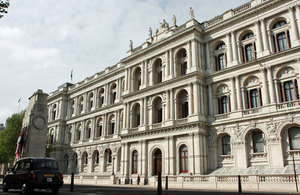 Topics such as the economy and public policy were on the agenda during their discussions.
The two men then visited the nearby Wellington Barracks and met soldiers from the 1st Battalion the Grenadier Guards who earlier this year returned from a six-month tour in Helmand Province, Afghanistan.
Speaking in front of about 300 troops, Mr Schwarzenegger told them they were the "true action heroes" and paid tribute to the UK armed forces for being "great partners" with the US.
Published 14 October 2010