Prime Minister busts the myths on red tape for Royal Wedding street parties
The Prime Minister David Cameron has said today that people planning a Royal Wedding street party should be able to organise their celebrations…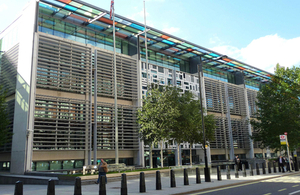 The Prime Minister David Cameron has said today that people planning a Royal Wedding street party should be able to organise their celebrations without any red tape or legislation getting in the way - and urged people to get planning.
It is estimated that 2 million people will take part in street parties across the country on 29 April, but many may have been put off by rules and regulations imposed by councils.
Today the Prime Minister went about busting the myths associated with setting up events and encouraged all councils and organisers to use a common sense approach - sweeping away unnecessary red tape.
The Prime Minister said:
The Royal Wedding is an exciting occasion for people across Britain to come together - and one great way of doing that is by setting up a street party.

There are already around 4,000 street parties planned across Britain - and there's still time to organise many more. We'll be holding one in Downing Street and bringing together local people and charities.

To those councils that are asking small groups of neighbours for licenses, insurance and other bureaucracy my message is clear: don't interfere, don't get in the way, and don't make problems where there are none. Let people get on and have fun.

And my message to everyone who wants to have a street party is: I'm having one and I want you to go ahead and have one too.
The Government has taken action to withdraw central guidance and worked with charities, councils and local partners to make it easier for people to organise a street party or fete. Ministers have strongly encouraged councils to do their bit to support this national day of celebration and ensure everyone's energy goes into the fun part - not trawling through reams of paperwork.
Last August, Communities Secretary Eric Pickles tackled the reams of forms, high costs and red tape getting in the way of communities organising street parties and summer fetes. He issued new guidance and replaced the complicated bureaucracy of forms, permissions and risk assessments with a simple checklist which most local authorities are now using. He also called for a proportionate, common sense approach from councils for fun events.
Today, Mr Pickles said:
This is a real opportunity for councils to help local residents from all backgrounds to come together, and reinforce our shared identity and sense of Britishness. Of course we want people to be safe and sound but common sense has to prevail and people should use their rights as citizens and challenge councils if red tape rules are being used against them".
In February, the Transport Secretary Philip Hammond wrote to local councils in England scrapping the Department for Transport guidance on road closures. The guidance - which was intended to cover all types of special event - was sometimes being misinterpreted by councils causing them to impose extra bureaucracy and costs on residents. Some communities were being told they would need to employ traffic management companies to close off their road when holding even small street parties. Now this guidance has been abolished, councils all over the country are encouraged to avoid charges for street party road closures.
Transport Secretary Philip Hammond said:
Local authorities should support people's plans for Royal Wedding street parties, rather than work against them.   
"There should be a strong presumption in favour of allowing road closures in residential areas where appropriate alternative routes for traffic are available.
 
"Councils should apply the lightest possible touch to administration and always think twice before charging fees. The wedding should be a great occasion for everyone across the country, let's not let bureaucracy and form filling get in the way of a truly national celebration."
Minister for health and safety Chris Grayling said:
The Royal Wedding will be a great national occasion, and I want to reassure everyone that they can have street parties with friends and family and bring out the bunting to celebrate in time-honoured British tradition. There is no reason whatsoever for anyone to ban these celebrations on the grounds of health and safety. We are restoring common sense to our health and safety system, ensuring it is there to protect people at work not penalise people at leisure.
From today, people can use the DirectGov website to access local information on street parties by entering their postcode.
Street party myths
That the law requires complex forms for a road closure and councils need to sign off every detail. For most small parties in quiet streets, all your council needs to know is where and when the closure will take place so they can plan around this (for example, so emergency services know). And you can organise a street party or 'Street Meet' in another space such as a local park without any requirement to fill in council forms. If councils really need more information, they will contact organisers. If councils ask for excessive information, they should be challenged.
That you need insurance. There is no requirement from central government to have public liability insurance. Many councils do not insist on it, so you can challenge those who do.
That you need a food license. Again there is no requirement for this.
The law requires a fee to be charged for a road closure. The Department for Transport has scrapped guidance that was being used by councils as an excuse to charge people wanting to close their road. Many councils will charge nothing for Royal Wedding street parties. If your council is charging, you have every right to challenge them.
It's too late to ask for a road closure. Some councils have set deadlines to help them manage their work. But there are no requirements in law so if those deadlines look unreasonable, ask your council to be flexible. You may be able to organise a 'Street Meet' - a gathering in a park, driveway or cul-de-sac. Residents should speak to their council about plans and Streets Alive have some excellent guidance on how to do this: www.streetparty.org.uk/residents/street-meet.aspx (external link).
You need to buy expensive road signs. Some local councils will lend you signs and cones.
It's too difficult and confusing. Streets Alive has a great website to help you plan and people can also use DirectGov to access local information and contact details for further advice. (by entering postcode at the DirectGov website).
You need an entertainment licence. Some councils argue that you need a licence for live entertainment - that's not the case. The Licensing Act 2003 (external link) explicitly exempts garden fetes "and functions or events of a similar character" from being regarded as the provision of regulated entertainment, provided the proceeds of the event are not used for the purposes of private gain.
Notes to editors
1. The easy guidance and checklist issued by Communities Secretary Eric Pickles last summer can be downloaded here: www.communities.gov.uk/publications/communities/streetpartyguide.
Further advice can also be found on DirectGov: www.direct.gov.uk/en/HomeAndCommunity/Gettinginvolvedinyourcommunity/Charities/DG_192701 (external link).
2. The Health and Safety Executive have today published new information on its website setting the record straight to pre-empt any attempts to inhibit celebrations with unnecessary red tape: www.hse.gov.uk (external link).
3. The Local Government Association have highlighted councils up and down the country working hard to help their communities hold celebrations: www.lga.gov.uk/lga/core/page.do?pageId=17712739 (external link).
4. The Streets Alive website lists useful advice and contact details www.streetsalive.org.uk/ (external link).
5. Anyone who encounters barriers to community action can get help from the Department for Communities and Local Government's 'barrier busting' website: http://barrierbusting.communities.gov.uk/ (external link).
Twitter
Keep up to date with the Department by following us on Twitter (external link).
Media enquiries
Visit our newsroom contacts page for media enquiry contact details.
Published 11 April 2011