Prime Minister begins Africa trade mission
Prime Minister David Cameron has travelled to South Africa on two-day visit to Africa to boost trade.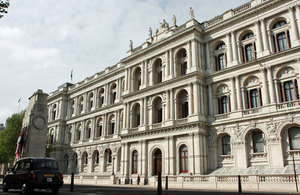 At the start of his visit, the Prime Minister held a press conference with President Zuma and praised the strong relationship between the two countries and pledged to make it even stronger:
"I think it right for Britain to be engaged with South Africa and to be engaged with Africa as a whole. There is a huge opportunity for trade, for growth, for jobs, including jobs at home in the UK."
The visit comes at a time when Africa is changing. Last year, Africa's economy grew by nearly 5% and six of the ten fastest growing economies in the world are African.
As a result, the UK's relationship with Africa is also changing from a one-dimensional relationship focussed on aid to a three-dimensional relationship focussed on aid, trade and strengthened bilateral engagement.
The Prime Minister described South Africa as "a gateway to a new economic future" for Africa and pledged to double bilateral trade by 2015.
Writing in South Africa's Business Day, he said:
"Trade and enterprise have the power to change lives. What will lift tens of millions out of poverty in the long run is economic growth."
He also pledged extra aid to the worsening crisis in the Horn of Africa, which he described as "catastrophic".
Before the conference the leaders had also discussed the Middle-East, Zimbabwe and Libya.
The visit takes place on Mandela Day, Nelson Mandela's birthday, when South Africans are asked commemorate the 67 years Mandela spent in the struggle for social justice. To mark the day the Prime Minister will attend an event with Archbishop Desmond Tutu.
The Prime Minister is accompanied by the Development Secretary Andrew Mitchell, Trade Minister Lord Green and a business delegation.
Later today, the Prime Minister will attend a business event bringing together UK and South African businesses and entrepreneurs to exchange ideas on how they can work more together.
He will also visit a football training academy to see efforts by the English Premier League to promote the game in South Africa.
Published 18 July 2011