Prime Minister and Foreign Secretary attended United Nations General Assembly
Prime Minister David Cameron and Foreign Secretary William Hague led the UK delegation to the United Nations General Assembly.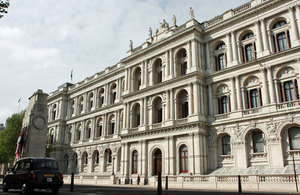 The gathering of world leaders at the UN General Assembly is a unique forum for the international community to address global issues. The sixty-sixth session opened in New York on 13 September 2011. The UK delegation, led by the Prime Minister and the Foreign Secretary, were active throughout the Assembly, met key counterparts and advanced UK foreign policy across the board. They were accompanied by seven other Ministers from across Government.
Full coverage:
**Saturday 24 September
**
**Friday 23 September
**
Thursday 22 September
Wednesday 21 September
Tuesday 20 September
Monday 19 September
UK priorities included the Middle East Peace Process, the Arab Spring, Somalia, Commonwealth issues, the emerging powers and trade issues. The Prime Minister made a speech to the UN General Assembly on 22 September. The Foreign Secretary attended Foreign Ministers meetings on the Middle East, the Commonwealth, Somalia, preventive diplomacy and a high level meeting on Nuclear Safety.
We have provided regular updates on the UK Mission to the UN website, and the meetings have been streamed live on the UN website.
Published 23 September 2011