Pride of the Armed Forces recognised for outstanding gallantry
131 Service personnel have been recognised for gallantry in the latest Operational Honours and Awards List.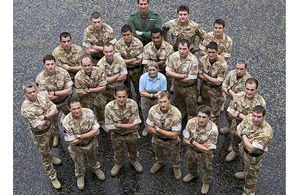 A soldier who selflessly risked his life by throwing back an enemy grenade to save his colleagues, and a High Threat IEDD (improvised explosive device disposal) Operator who neutralised 42 devices in 72 hours, are among the brave servicemen and women who have been honoured.
Lance Corporal James McKie, 3rd Battalion The Rifles, has been awarded the Conspicuous Gallantry Cross for his selfless actions - directly saving the lives of his comrades.
LCpl McKie was providing security for the construction of a patrol base in northern Sangin when his unit was engaged by insurgents. Whilst returning fire an enemy grenade was thrown, striking LCpl McKie's commander's back and stopping at his feet.
LCpl McKie threw himself at the grenade, picked it up and threw it back towards the enemy position; it exploded a split-second after leaving his hand, inflicting shrapnel wounds to his face and hands but saving the lives of his commander and a fellow Rifleman.
George Medal winner Acting Warrant Officer Class 2 Karl Ley, The Royal Logistic Corps, is awarded for his work as a High Threat IEDD Operator.
A/WO2 Ley has dealt with more improvised explosive devices than any British operator in history. To date, he has made safe and recovered 139 IEDs.
Willingly accepting an incredibly high level of personal risk, on one 72-hour operation A/WO2 Ley defused 28 victim-operated devices and tackled 14 bombs - a feat which displays incredible determination and awesome bravery.
Also amongst those recognised is Constable Mandy Henderson of the Ministry of Defence Police who has been given the Queen's Commendation for Valuable Service for her dedication and determination in training female police officers in Afghanistan.
PC Henderson is the only civilian to receive such an honour in this year's awards. Her outstanding work has been crucial to the success of the development of the Afghan National Police in Helmand, where she was responsible for the co-ordination of training and improving the status of women police officers.
PC Henderson spent all of her six months in Afghanistan developing the training programme to ensure that women police officers were equipped to work as equals alongside their male counterparts.
The majority of award recipients are from the Army but the Royal Air Force and Royal Navy are also represented.
Chinook helicopter pilot Flight Lieutenant Ian Fortune earns a Distinguished Flying Cross for his part in the medical evacuation of six casualties whilst under enemy fire.
During the extraction a round came through the windscreen, hit Flt Lt Fortune's helmet and shattered his visor, causing deep lacerations to his face. Flt Lt Fortune maintained control of the aircraft and successfully completed the extraction.
Among the officers presented with Distinguished Service Orders are Brigadier James Cowan, late The Royal Regiment of Scotland, who commanded Task Force Helmand throughout Operation HERRICK 11, and Lieutenant Colonel Nicholas Kitson, the Commanding Officer of 3rd Battalion The Rifles.
Secretary of State for Defence, Dr Liam Fox, said:
Each of these awards highlights the extraordinary courage and incredible bravery that is displayed by our Service personnel.
Our Armed Forces are the best in the world and those recognised today should feel extremely proud of their actions.
Full details of the Operational Honours and Awards List Number 35 can be found at Related News.
Published 24 September 2010