World news story
Preventing gender violence: a priority for all
The showing of documentary "I am alive...I want to tell" was the perfect occasion to celebrate International men's day on Saturday 19 November.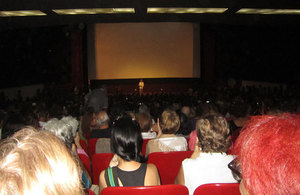 Cinema Charles Chaplin in Havana was crowded with activists, victims of gender violence and general public for the showing of documentary "I am alive…I want to tell". The film produced by Cuban NGO Proyecto Palomas is part of an Oxfam project to tackle gender violence and was funded by British Embassy.
A wonderful afternoon to advocate for inclusivity, respect for diversity and against all kinds of violence. Antony Stokes, British Ambassador in Havana met victims of gender violence, activists and Cuban celebrities who have been supporting a wider community effort to take measures to tackle this serious issue.
Published 21 November 2016