World news story
Pretoria Supports Marine Science education in the Cape
Marine Science programme aims to raise awareness of climate change, using various aspects of Marine Science.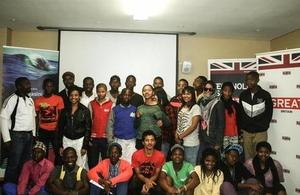 Last week, the South African Environmental Observation Network (SAEON) hosted a four-day workshop on marine science for grade 11 learners. This workshop, which started on March 31, included lectures, hands-on activities and visits to research facilities and laboratories such as the University of Cape Town's Oceanography Department. From April 4, the group went to camp at the Potberg Nature Reserve to continue the workshop with science experiments.
The main aim of this Marine Science programme was to raise awareness of climate change, using various aspects of Marine Science, and included a study of the physical, chemical, and geographical aspects of oceanography, marine biology, the coast and the interrelationships among these disciplines. The programme created a platform for learners to engage in environmental monitoring, discuss and explore their own science projects and hone their science writing and presentation skills.
34 learners from 16 schools in the Cape Town Metro participated. These learners were all selected as top achievers at their schools in Mathematics, Life Sciences, Physical Sciences and Geography. These schools are part of SAEON's Education Programme, and the Western Cape Education Department's ongoing Science in Our Schools projects.
In the coming weeks, these learners will give presentations at their respective schools about their experience and what they learnt during the week, in the hope to encourage their fellow schoolmates to engage in science and to raise awareness on climate change.
The British High Commission is supporting SAEON's annual Marine Science Holiday programme through its Prosperity Fund in South Africa.
Published 10 April 2014