Press release
Press Release: New Permanent Secretary at DECC
Stephen Lovegrove has been appointed as the new Permanent Secretary at the Department of Energy and Climate Change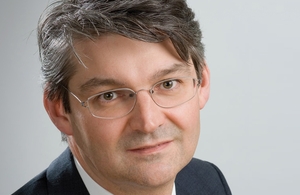 Press Notice:13/001
The Prime Minister, with the agreement of the Secretary of State for Energy and Climate Change and, following consultation with the Deputy Prime Minister, has approved the appointment of Stephen Lovegrove as the new Permanent Secretary at the Department of Energy and Climate Change. Stephen will replace Moira Wallace who left the Department at the end of October.
Energy and Climate Change Secretary of State, Edward Davey, said:
"This is an excellent appointment. Stephen's proven commercial experience will be an invaluable addition to the Department's capability. We need to attract billions in private sector investment to build new power stations and to upgrade the energy efficiency of the nation's homes. Stephen and I worked together for nearly two years when I was a Minister at BIS, not least on the reform of Royal Mail, so I know he will be a huge asset to DECC."
The Head of the Civil Service, Sir Bob Kerslake, said:
"I am delighted Stephen has been appointed as Permanent Secretary at the Department of Energy and Climate Change. His strong background of public and private sector experience, along with his ability to work across Whitehall, will be invaluable in delivering the Department's innovative programmes."
Commenting on his appointment, Mr Lovegrove said:
"It is a great honour to be given the opportunity to lead the department at such an important time for Britain's energy and climate change policy. Our sustainability, resilience and growth agendas need to advance together over the coming years, and DECC needs to be at the forefront, working closely with customers, industry and investors. My current role has already involved working with the many of the talented team at the Department, and I am absolutely delighted to be able to continue and intensify that effort on a broader front."
He is expected to take up post on 4 February.
Notes for Editors
Stephen is currently Chief Executive at the Shareholder Executive, a role he has had since June 2007. He joined the Shareholder Executive in April 2004. Prior to that, Stephen spent 10 years at Deutsche Bank, where he was the head of the European media team. During that time, he worked on a wide range of capital raisings, acquisitions and divestments in all the sub-sectors of the media industry. Before working in the City, Stephen spent 5 years as a strategic consultant.
Stephen was actively involved in the London 2012 Olympics, having been a Board member of The London Organising Committee of the Olympic Games and Paralympic Games. He is a Trustee of the Charities Aid Foundation.
Phil Wynn Owen is currently acting Permanent Secretary and Accounting Officer for DECC.
Published 7 January 2013