Press release: Military deaths abroad investigated in Scotland
The Government is committed to supporting families of service personnel who have died while on duty abroad. In reforming the coroners system…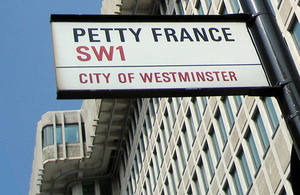 The Government is committed to supporting families of service personnel who have died while on duty abroad. In reforming the coroners system, the Ministry of Justice has updated the law so, for the first time, the deaths of service personnel abroad can be investigated in Scotland.
Until now inquests into such deaths have been heard in England and Wales, meaning bereaved service families based in Scotland have often had to travel long distances to attend the inquest.
This change comes into force on 24 September 2012 when the first Chief Coroner of England and Wales, Judge Peter Thornton QC, will have the power to recommend to the Lord Advocate that an investigation should be transferred to Scotland.
Justice Minister, Helen Grant said:
'This is an important change in the law that will ensure deaths of service personnel killed abroad while on active duty can be investigated in Scotland.'
'By updating the law and introducing a common sense approach to where such investigations are conducted, we can better support the families of those who have made the ultimate sacrifice in the service of their country.'
Armed Forces Minister Andrew Robathan said:
'This change in the law will be welcomed by Scottish families whose loved ones have paid the ultimate sacrifice in the service of their country.
'It will ensure that they will no longer have to travel many miles from their homes to attend inquests and that they will receive support in a familiar and more convenient environment, during what are of course extremely challenging periods.'
The Secretary of State for Scotland, Michael Moore said:
 
'Our service personnel carry out an essential and brave job in the defence of our nation and we have a duty to support them and their families in every way possible.
'It is hugely tragic every time a member of our armed forces is killed abroad and this change to the law will help support bereaved families through an incredibly difficult process.'
This new provision aims to reduce additional distress by ensuring that bereaved service families do not have to travel long distances to attend an inquest. 
Notes to editors
Further information on the power to recommend the transfer of cases to Scotland is set out in sections 12 and 50 of the Coroners and Justice Act 2009

Bodies of service personnel killed abroad while on active duty are usually repatriated to RAF Brize Norton in Oxfordshire. At present, there is no power to allow an investigation into such a death to be referred to Scotland, even if the family is based there, and instead the inquest is usually held in Oxford.
The Chief Coroner takes up post today, 17 September. His appointment has been made by the Lord Chief Justice under powers in of the Coroners and Justice Act 2009.
HHJ Peter Thornton QC is a Senior Circuit Judge at the Central Criminal Court (Old Bailey). He was previously a practising Queen's Counsel and part-time judge as a Deputy High Court Judge and Recorder of the Crown Court.  In 2011, as Assistant Deputy Coroner for the City of London, he conducted the inquest into the death of Ian Tomlinson who died at the time of the G20 protests in 2009.
Enquiries about the Chief Coroner, Judge Thornton should be directed to the Judicial Communications Office on 0207 073 4852.
Published 17 September 2012