Press Release: Boost for business as government sets out plans to update employment legislation
Changes to collective redundancies rules to help employees and businesses were announced by Employment Relations Minister, Jo Swinson, today…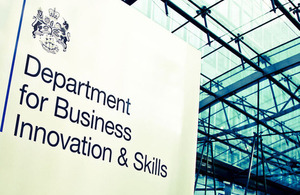 Changes to collective redundancies rules to help employees and businesses were announced by Employment Relations Minister, Jo Swinson, today.
The government announced it plans to:
reduce the current 90 day minimum period, before very large scale redundancies can take place, to 45 days
legislate to make clear that fixed term contracts which have reached the end of their natural life are excluded from obligations for collective redundancies consultation
introduce new non-statutory Acas guidance to address a number of key issues affecting collective redundancies consultation.
Employment Relations Minister, Jo Swinson said:
The UK has a labour market that is flexible, efficient and fair but some of our laws need reform to respond to an ever changing employment landscape.
We want to improve the quality of consultations by making sure that there are tools available to help employers manage this process fairly and successfully to deliver the best possible outcomes for all parties. Acas will be working with stakeholders to produce non-statutory guidance that will be designed to help improve the quality of consultations.
We have listened to stakeholders and there is a strong argument for shortening the minimum period which is backed up by hard evidence.
The process is usually completed well within the existing 90-day minimum period, which can cause unnecessary delays for restructuring, and make it difficult for those affected to get new jobs quickly.
Our reforms will strike an appropriate balance between making sure employees are engaged in decisions about their future and allowing employers greater certainty and flexibility to take necessary steps to restructure.
Today's announcement responds to a consultation launched in June and to calls for improvements to the way collective redundancies rules operate and for the processes involved to be made easier to understand. It also forms part of the Government's commitment to review employment law to support business and concentrate on growth.
The replacement of the current 90 day period to 45 days will still allow full employee engagement and offer employee representatives a statutory right to contribute to the process. The new 45 day period will be a minimum period, and businesses may consult for longer where appropriate.
The changes will be made through secondary legislation. Draft regulations will be laid in the New Year and the changes are expected to be made by 6 April 2013.
Notes to editors:
The Coalition government started a systematic review of employment law in 2010. This Employment Law Review (ELR) is now half way through its work and aims to provide clarity, certainty and give businesses the confidence to manage their workforce effectively. The Review sits alongside the Employment Law-related Red Tape Challenge to reduce regulatory burdens on business.

A copy of the government's response to Collective Redundancies can be found at https://www.gov.uk/government/consultations/collective-redundancies-consultation-on-changes-to-the-rules

The Growth and Infrastructure Bill sets out a comprehensive series of reforms aimed at supporting businesses, developers, and first time buyers by slashing red tape that delays or discourages business investment, development or job creation.

The government's economic policy objective is to achieve 'strong, sustainable and balanced growth that is more evenly shared across the country and between industries'. It set four ambitions in the 'Plan for Growth' (PDF 1.7MB), published at Budget 2011: * To create the most competitive tax system in the G20 * To make the UK the best place in Europe to start, finance and grow a business * To encourage investment and exports as a route to a more balanced economy * To create a more educated workforce that is the most flexible in Europe Work is underway across government to achieve these ambitions, including progress on more than 250 measures as part of the Growth Review. Developing an Industrial Strategy gives new impetus to this work by providing businesses, investors and the public with more clarity about the long-term direction in which the government wants the economy to travel.
Published 18 December 2012