World news story
Press, events and digital communications summer job available at the Helsinki Embassy
A full-time, summer vacancy for 4 months is available during summer 2013, but may be extended for a further fixed period. This is a dual role combining both communications and event management tasks.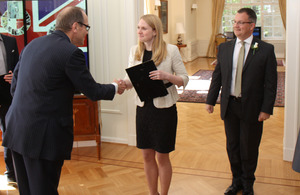 The Press, Events and Digital Communications Officer will work with the Political & Press and Ambassador's Residence teams. The embassy's Political and Press Section promotes strong political ties between the UK and Finland, both bilaterally and as EU partners. For further information about the British Embassy, please visit British Embassy Helsinki
The Position:
In line with business plan objectives, provide press, public affairs and digital diplomacy services for the embassy. Organise and deliver events in collaboration with the embassy's teams and, as needed, external stakeholders. The range of duties includes:
Press and Public Affairs
embassy contact point for media and public
provide a daily summary of media headlines and reporting
Events and Visits
working with the ambassador and other teams to design, organise and deliver public-facing events and other representational activity in support of business objectives
event budget monitoring, planning and forecasting, and evaluation of events
Digital Communications
webmaster for the embassy's gov.uk webpages
manage social media channels (Facebook, Twitter) to increase the embassy's profile in Finland
Skills and experience of the successful candidate:
Essential Skills
proven website management skills and previous experience, including social media
excellent written, spoken and presentational skills in English and Finnish
self-starter with good self-management skills but also the ability to work flexibly and in a team
experience in event budget monitoring, planning and forecasting
excellent organisational skills, an ability to prioritise tasks and work to deadlines
a positive attitude, creativity and a customer-focused approach
Desirable
journalism qualification and/or previous experience working in a media or communications environment
previous experience of event organising and management
experience of living and working in the UK
Terms and Conditions:
The British Embassy offers competitive terms and conditions of service. Starting salary for this position is €2,421 per month. The leave entitlement for the 4-month contract is 7 days. Embassy employees are entitled to a private medical scheme for basic healthcare services and to use the embassy's recreational facilities.
Normal working hours are 9am to 4.45pm; however, some flexibility in working hours will be expected. Any extra hours worked are compensated by time off in lieu. The embassy pays the employer's contribution to the Finnish Pension Scheme but does not make tax deductions from employee salaries and it is the responsibility of employees to ensure tax payments relating to their embassy salary are made to the Finnish authorities.
There are opportunities for professional and personal development and training both in Helsinki and elsewhere. Any final appointment will be subject to necessary security clearance and a one month probationary period.
To Apply:
Please send your application in English with a current CV, stating why you are suitable for the job, by Wednesday 10 April 2013 to the HR Manager, British Embassy Helsinki, Itäinen Puistotie 17, 00140 Helsinki or by email to recruitment.helsinki@fco.gov.uk. Interviews for the appointment are likely to take place during the week of 17 April and we would like the successful candidate to start around mid-May. Please note that only candidates invited to an interview will be contacted.
The British Embassy is an equal opportunities employer and does not discriminate on the grounds of ethnic origin, race, religious beliefs, age, disability, gender or sexual orientation.
British Embassy Helsinki, 26 March 2013
Published 27 March 2013