Press release
Press briefing: afternoon 8 October 2013
The Prime Minister's spokesperson (PMS) answered questions on Royal Mail privatisation and the ministerial reshuffle.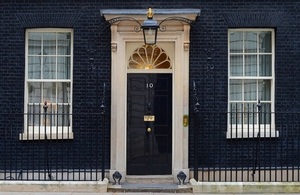 PM meeting with President of the EU Council
When asked whether the Prime Minister (PM)'s discussions with the President of the EU Council covered the issue of Edward Snowden and data protection, the PMS explained that the discussions on data protection were about requirements forcing small businesses with regards to the holding of consumer information.
Royal Mail privatisation
When asked if the PM would advise the public to buy shares in Royal Mail, the PMS said financial advice was not a role for him to give. There had been a clear process for public participation in the forthcoming sale of Royal Mail. Final decisions on allocation had not yet been taken. Asked about the Opposition's claim that the shares had been undervalued, the PMS said he had nothing further to add to the Business Secretary's recent correspondence with the Shadow Business Secretary.
Asked whether the government wanted to privatise any other assets, the PMS said the Royal Mail privatisation would now run its course and the Treasury had responsibility for considering the scope of further private sector involvement.
Commonwealth Games
Asked why the PM reportedly declined an invite to launch the Commonwealth Games baton relay, the PMS said he was not aware and would need to check.
Ministerial reshuffle
When asked if the PM had been involved in the ministerial appointments of Norman Baker and Alistair Carmichael yesterday, the PMS explained that ministerial appointments were ultimately the responsibility of the respective party leaders, with consultation between the parties.
Published 9 October 2013