Press release
President of Ghana backs Energy Africa's solar revolution
Ghana set to become latest country to sign up to the solar revolution in Africa, International Development Minister Grant Shapps announces.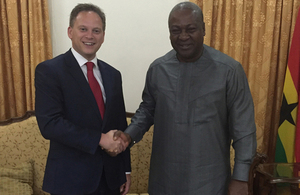 Ghana is set to become the latest country to sign up to the solar revolution in Africa, International Development Minister Grant Shapps has announced following his visit to the country.
Minister Shapps and Ghana's President, His Excellency John Dramani Mahama, agreed to work together to power up the solar market in Ghana, giving millions of people in urban and remote areas access to clean, reliable, and affordable energy. A Partnership Agreement on Energy Africa will be formally signed later this month.
During his visit, Minister Shapps met customers of PEG Ghana, a UK-backed business bringing power to thousands of people thanks to mobile pay-as-you-go solar technology.
Travelling to Dawa Town, a rural area outside the capital, Accra, the Minister met some of Ghana's poorest families who are the latest investors in solar technology in Africa. For Ebenezer, his wife and their six children, reliable, affordable electricity has been life-changing. They no longer walk miles to charge their mobile phones, they no longer breathe in toxic kerosene fumes, and lightbulbs mean the children can study and play safely outdoors after sunset.
Grant Shapps said:
"It is shocking that 2 in 3 people in sub-Saharan Africa still lack access to electricity. People in Ghana face regular power cuts and energy is unaffordable for many, yet less than one percent of households use solar technology.
Millions of Ghanaians are forced to rely on toxic, expensive kerosene and children cannot do their homework after dark. No country can develop without energy and we must act now to kick-start a solar revolution across Africa.

I've seen for myself the difference solar energy can make to the people of Ghana. Nightfall no longer needs to mean darkness. With British-backed technology, families can save money on fuel, feel safe at night, and run businesses from home.

Ghana has the solar kits, mobile payment systems, and the year-round sunshine. And with the President's backing, together we can change lives.
On current projections, Africa will not achieve universal energy access until 2080. This is 200 years after Thomas Edison invented the lightbulb.
With the support of countries like Ghana, the Energy Africa campaign will help achieve universal energy access by 2030.
The time to act is now, for four reasons: the cost of solar power has crashed; battery technology has improved; appliances are more efficient; and crucially, the spread of mobile payment systems means people can pay for their energy with a simple text. This means the solar revolution can be delivered by the market.
British technology and ingenuity is at the forefront of this revolution, with companies like Azuri and PEG Ghana leading the way. Minister Shapps became PEG's 5,000th customer on his visit and the company aims to reach their 500,000th customer within three years. All this will support economic growth, as every solar kit sold means more jobs in design, sales, and distribution.
Notes to editors
While in Ghana, Minister Shapps also joined a Global Alliance for Clean Cookstoves event and visited a Making Ghanaian Girls Great project - run by the Varkey Foundation. As well as President Mahama, Minister Shapps also met senior members of Ghana's government including Minister of Finance Seth Terkper and Minister for Power Dr Kwabena Donkor.

The Energy Africa campaign was launched at Facebook's offices in London on 22 October 2015. Minister Shapps was joined by Kofi Annan, former UN Secretary General and Head of the Africa Progress Panel, African Union chairperson Madame Zuma and Bob Geldof. Sir Richard Branson has also given his backing to the campaign.

More pictures from Minister Shapps' visit to Ghana can be downloaded here: https://www.flickr.com/photos/dfid/albums/72157659431659218
General media queries
Follow the DFID Media office on Twitter - @DFID_Press
Published 13 November 2015