President Karzai pays tribute to UK troops killed in Afghanistan
In the lead up to Remembrance Sunday the President of Afghanistan Hamid Karzai has paid tribute to those that have sacrificed their lives in his country in an open letter to the British public.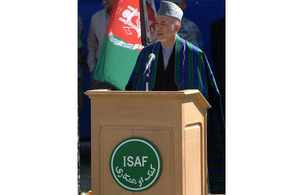 President Karzai writes:
Remembrance Sunday. A day that resonates in the hearts of all British people. A day that commemorates the end of the First World War and the millions who died in that bloody conflict. The day on which British people take time to remember all those members of your Armed Forces who have made the ultimate sacrifice.
It was supposed to be the war to end all wars. But, as painful experience has shown, it is only through continued vigilance and, where necessary, the use of force, that we are able to defeat those who do not hesitate to use violence to impose their will on innocent others. Those who would deny ordinary men, women and children the freedom to determine their own lives.
The UK, together with 47 other nations, is working with my Government and the Afghan people to prevent the insurgents from regaining power, bringing Al-Qaeda back with them.
Your troops are working with the Afghans to safeguard both of our countries, our peoples and our ways of life from extremism and the threat of terrorism. Stability in Afghanistan means improved security for the rest of the world.
In time, Afghanistan will be able to defend its security for itself. That task will not require the thousands of international troops currently operating here. By the end of 2014 I want all provinces of my country to be secured by the Afghan National Security Forces.
Training these forces to take on this task is not easy. But with the help of the international community and the determination of the Afghan people it can be done.
Many Afghans have lost their lives in this struggle for our future security. And on this day I will also stop to remember those from other nations who have paid the ultimate sacrifice. 343 British servicemen and women have lost their lives in trying to establish a more secure Afghanistan.
Every one of those lost lives is a tragedy. And I pay tribute to each and every sacrifice. But those sacrifices have not been in vain: together we will succeed, for all our sakes. On your day of remembrance, the thoughts of the people of Afghanistan are with you.
Published 12 November 2010