President Benigno Aquino III of the Philippines visits the UK
President Benigno Aquino III of the Philippines visited the UK as an official guest of the British Government 5-6th June 2012.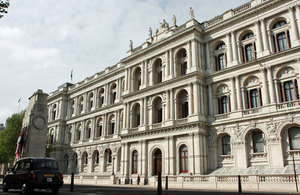 President Aquino called on Prime Minister David Cameron, Foreign Secretary William Hague and the Duke of York. Foreign Office Minister Jeremy Browne and the Lord Mayor of London hosted a lunch for the President and senior business representatives.
During the visit, Shell confirmed its plans to increase its investments with an addition of over US $1.6 billion for the development of an LNG import and re-gasification terminal. Shell is already the largest foreign investor in the Philippines (US $5 billion). Unilever also announced an MoU to increase its investment and expand manufacturing facilities in the Philippines; Cleveland Bridge signed a £120 million contract for in the National Roads Bridge Replacement Project.
Mr Browne accompanied the President on a tour of the Imperial War Museum and The Foreign Secretary had an additional meeting with Filipino Secretary for Foreign Affairs Albert Del Rosario.
The Foreign Secretary said:
"This is the President's first visit to Europe. It's an honour and a sign of our growing relationship with this dynamically developing country that he has chosen to visit the UK".
The UK is the only country that he is visiting en route to the United States, where he will meet President Obama. The President is accompanied by eight of his senior cabinet Ministers.
Published 6 June 2012