News story
Preserving our post boxes
Historic England and Royal Mail join forces to ensure the preservation of the character and heritage of post boxes.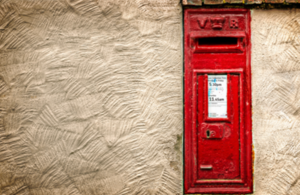 The announcement today means that Historic England and Royal Mail have committed to manage and conserve the network of post boxes in their existing locations across the UK.
The commitment is recognition of the vital role that the UK's treasured post boxes provide in connecting communities and businesses across the country. Many post boxes have their own stories with particular meaning for their local communities. They also act as an icon of the UK's postal system that's recognised around the world.
Preserving heritage
Under the new policy, Historic England will work constructively with Royal Mail through current heritage protection systems to find the best way to ensure that post boxes are retained and well cared for wherever possible.
The policy also sets out how Royal Mail will work to prevent any unlawful damage or removal of our post boxes. In the event of a crime being committed, Royal Mail will work with local policing teams as well as community groups to investigate such cases and prosecute those suspected of criminal activity.
Minister for Intellectual Property, Baroness Neville-Rolfe said:
This innovative partnership will make sure our unique postal heritage is protected for future generations. Britain's historic post boxes have been a familiar sight on our streets for over 150 years and are a great example of our world-famous heritage.
Duncan Wilson, Chief Executive of Historic England, said:
Post boxes are a cherished feature of British streets, adding character, colour and historic depth. Around 200 of the oldest and most rare are listed but all are important to our heritage.
Sue Whalley, Royal Mail's Chief Operating Officer, said:
There are around 115,300 pillar, wall and lamp boxes nationwide and there is a post box within half a mile of over 98% of the UK population. We are proud of our much-loved post boxes and go to great lengths to maintain and repair them. The agreement will be adapted to reflect the individualities of post boxes across the UK, with equivalent policies with Historic Scotland, Historic Wales and Historic Northern Ireland. We believe this policy will help ensure the preservation of all post boxes for future generations.
Published 15 July 2015