News story
Presentations from the Inter-Subject Comparability conference
PowerPoint presentations from speakers at the inter-subject comparability conference.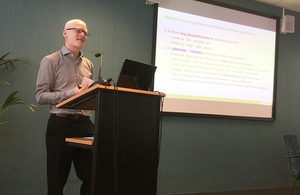 The Inter-Subject Comparability conference was on Thursday 4 February 2016 at Broadway House, Westminster. The presentations used on the day are available below.
Perspectives from Ofqual
Paul Newton
Research Chair, Research and Evaluation, Ofqual
After gaining his PhD in developmental psychology, Paul Newton moved into educational assessment as a researcher for most of his career. His research focuses on issues related to the evaluation of large-scale educational assessment systems.
The very idea of inter-subject comparability - Paul Newton (MS Powerpoint Presentation, 3.21MB)
Dennis Opposs
Standards Chair, Ofqual
Dennis Opposs has worked for Ofqual for seven years. He previously worked at QCA and was a teacher in North London.
Inter-subject comparability matters - Dennis Opposs (MS Powerpoint Presentation, 1.05MB)
Perspectives from subject communities
Nick Mair
Director of Languages, Dulwich College
Nick Mair is a former chair of ISMLA (Independent Schools' ML Association) and Vice Chair of ALL-London. He also works with two academies (one of which has a specialism in languages). He has voiced teachers' concerns about the A* issue and the severe and unpredictable grading in ML examinations.
Severe grading in MFL - Nick Mair (MS Powerpoint Presentation, 384KB)
Charles Tracy
Head of Education, Institute of Physics
Charles Tracy started teaching in Hertfordshire in 1987. He worked as a physics teacher, a head of science and an adviser and joined the Institute in 2006.
Grading severity, choice and uptake - Charles Tracy (MS Powerpoint Presentation, 215KB)
Perspectives from the education community
Geraldine Davies
Principal, UCL Academy
Geraldine Davies has over 35 years' teaching experience, including leadership roles. She became principal of The UCL Academy in 2011. Students follow a STEM focused curriculum.
A headteacher's perspective - Geraldine Davies (MS Powerpoint Presentation, 62.1KB)
Alison Matthews
Deputy Director of Undergraduate Admissions, University of Oxford
Alison Matthews has a background in research. She headed up the research and evaluation team at QCA and QCDA before working as a consultant for four years. She joined the University of Oxford last year.
An HEI perspective - Alison Matthews (MS Powerpoint Presentation, 139KB)
Perspectives from academia
Iasonas Lamprianou
Assistant Professor, Department of Social and Political Sciences, University of Cyprus
Iasonas Lamprianou has published papers on the comparability of subjects in high stakes examinations. He is investigating the social and political dimensions of the phenomenon of comparability across different countries
Comparability of subjects: lessons from abroad - Iasonas Lamprianou (MS Powerpoint Presentation, 196KB)
Rob Coe
Director of the Centre for Evaluation and Monitoring, Durham University
Prof Rob Coe was originally a teacher of mathematics in secondary schools and colleges. He left teaching in 1995 to study for his PhD at Durham University and stayed on as a research associate and lecturer. CEM is the largest educational research centre in a UK university and Rob has been widely published in academic journals, books and reports.
What should we do about it? - Rob Coe (MS Powerpoint Presentation, 293KB)
Mike Cresswell
Independent Consultant
Dr Mike Cresswell is is an independent consultant on educational assessment and a member of the Ofqual Board. He was Director General and Chief Executive of AQA from 2004 until his retirement in 2010. Prior to that, his career was in assessment and examinations research and he published widely, especially on the topic of examination standards.
Putting subject comparability "right" is not sufficient to make grades from exams in different subjects interchangeable - Mike Cresswell (MS Powerpoint Presentation, 139KB)
Read our original news story about inter-subject comparability.
Published 8 February 2016
Last updated 12 February 2016
+ show all updates
Added links to original news story and working papers.
First published.