Presbyterian Mutual Society: ministers meet to find a way forward
Ministerial Working Group on the Presbyterian Mutual Society meet to find resolution for members.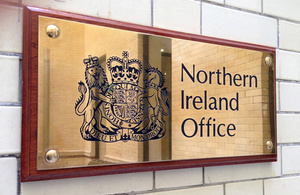 Secretary of State for Northern Ireland Owen Paterson today chaired the second meeting since the new government was formed of the Ministerial Working Group on the Presbyterian Mutual Society. Officials from Whitehall and Stormont departments have been working intensively to find a fair and just resolution for PMS members who have been unable to access their investments since the Society entered administration.
First Minister Peter Robinson, deputy First Minister Martin McGuinness, the NI Minister of Enterprise, Trade and Investment Arlene Foster, NIO Minister of State Hugo Swire and the Financial Secretary to the Treasury, Mark Hoban, also attended.
Speaking after the meeting, Owen Paterson said:
Real progress has been made by the Working Group in considering the options identified at our previous meeting, but a number of technical matters still require additional work.
This work continues, with the aim of finding a fair and just resolution. The aim is to complete this work in time for the forthcoming Spending Review.
Officials will continue to work together intensively and the Ministerial Working Group will meet again in two weeks.
Published 8 September 2010