News story
Pre-packages Directives review: consultation now open
From:

Part of:

Published:

17 December 2014

Last updated:

11 February 2015, see all updates
Review of the 3 pre-packages Directives is now at consultation stage.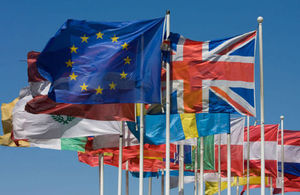 Are you a consumer? Do you buy packaged goods? Do you find the ℮-mark useful? Do you have any views about how it is used across Europe?
Now is the opportunity to make your views known and influence the future of the scheme.
The European Commission is conducting a review of the 3 pre-packages Directives:
75/107/EEC concerning bottles used as measuring containers
76/211/EEC relating to the making-up by weight or by volume of certain pre-packaged products
2007/45/EC on nominal quantities for pre-packed products
The review seeks to assess the:
relevance of Directives from individual consumers' and companies' points of view
coverage of the Directives (geographical, sectorial and by company type)
barrier and motivations behind the use of the ℮-mark and ɜ-mark
cost of applying the ℮-mark and ɜ-mark
Survey
As part of this review, the Commission have an open survey and are keen to hear from consumers, consumer organisations, NGO's, small and medium-sized enterprises, large companies, industry authorities. The survey closes on 7 April 2015.
PDF, 215KB, 1 page
This file may not be suitable for users of assistive technology. Request an accessible format.
If you use assistive technology (such as a screen reader) and need a version of this document in a more accessible format, please email info@nmo.gov.uk. Please tell us what format you need. It will help us if you say what assistive technology you use.
For further information about this review please contact:
Lynnette Falk
National Measurement Office
Stanton Avenue
Teddington
Middlesex
TW11 0JZ
Document information
Published: 17 December 2014
Updated: 11 February 2015
Call for consumers and consumer organisation to have their say on the 3 EU pre-packages Directives review.
First published.