News story
Preferred candidate for new ICAI Chief Commissioner announced
Dr Alison Evans selected as the preferred option to succeed Graham Ward.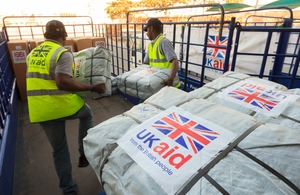 Following an open competition, the Secretary of State for International Development is pleased to announce that Alison Evans has been selected as the Government's preferred candidate to succeed Graham Ward in the post of Chief Commissioner of the Independent Commission for Aid Impact (ICAI), the independent body responsible for the scrutiny of UK Aid.
Dr Evans was identified following a rigorous selection process which was validated by an independent assessor from the Office of the Commissioner for Public Appointments. The recruitment process was conducted in accordance with the Commissioner for Public Appointments Code of Practice for Ministerial Appointments to Public Bodies.
The Secretary of State has invited the International Development Select Committee to hold a pre-appointment hearing, in line with the Government's commitment to strengthen the role of Parliament in scrutinising major public appointments. The hearing is scheduled to take place in early November.
Pre-appointment hearings enable select committees to take evidence from preferred candidates for major public appointments before they are appointed. Hearings are in public and involve the select committee publishing a report setting out their views on the candidate's suitability for the post. Pre-appointment hearings are non-binding but Ministers will consider the committee's views before deciding whether to proceed with an appointment.
All appointments are made on merit and political activity plays no part in the selection process. However, in accordance with the original Nolan recommendations, there is a requirement for appointees' political activity (if any declared) to be made public. Dr Evans confirms that she is not a member of any political party and has not made any political donations.
Biography
Dr Evans was until recently Director of the Overseas Development Institute (ODI). She is an economist with extensive experience working in research, policy and evaluation and strong geographic expertise in southern and eastern Africa, south-east Asia and the Balkans. Her career started teaching and researching at the Institute of Development Studies and the University of Sussex. She later joined the World Bank working in policy, country economics and evaluation. She then spent some time as an independent consultant engaging on issues of aid effectiveness. She joined ODI in 2006 as a Director of Programmes and became Executive Director in 2009. She stepped down from ODI in 2013 and now has an independent advisory career.
Dr Evans is a frequent advisor to senior decision makers across the bilateral and multilateral development system. She is a Non-Executive Director of Oxford Policy Management, vice chair of the Board of BBC Media Action, a member of the DANIDA External Grants Committee, Independent Chair of the ESRC-DFID Poverty Alleviation Research Commissioning Panel, and a former Independent External Reviewer on DFID's Multilateral Aid Review.
Published 4 August 2014