Praise for local community in Nottingham
Deputy Prime Minister Nick Clegg has paid tribute to the local community in Nottingham on a visit to the city.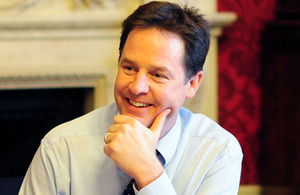 Mr Clegg said this had been an incredibly upsetting week for cities such as Nottingham but was proud of the resilience of communities to stand together in the aftermath.
Seeing for himself the firebombed police station, Mr Clegg congratulated the police force on quickly restoring the station to normal.
Mr Clegg was met by Chief Constable Julia Hodson and Inspector Anwaar Ahmed, both from Nottinghamshire Police, outside Canning Circus police station before holding a private briefing with other officers from the force and local residents who had been invited to meet him.
Speaking to reporters after his meeting, the Deputy PM said he felt "real pride" for the people he had met and that the city and the police station were starting to recover from the violent scenes witnessed earlier in the week.
Mr Clegg said:
I think the fact that this police station had been firebombed in the first place is a demo of quite how ugly and unacceptable the violence was in the first place.
He also said that the violence and looting experience over the past week was symptomatic of wider problems rife throughout the country.
We have to ask ourselves why an 11-year-old girl or young teenagers feel they've got so little stake in their own neighbourhood, in their own community, they've got so little sense of belonging, that they have to go around trashing it.

There's something we need to ask ourselves about how that has came about.

I think one of the parts of the answer, but it's a complex picture, is to make sure that wherever possible we give people opportunities because with opportunities to get ahead and create the kind of life that they want, that also creates a sense of responsibility which was so absent in these horrific events over the last several days. 
Yesterday, Prime Minister David Cameron set out the measures the Government was taking to restore law and order.
Published 12 August 2011