Power to local people to preserve village life
A new report today backs government plans to put power in the hands of rural communities to protect and preserve village life.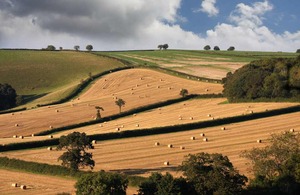 The Rural Challenge is published by a newly formed Rural Coalition, and argues that without radically empowering local people to make decisions about their communities, rural villages could be under threat.
Alongside proposals to devolve power to residents, the coalition also calls for reform of the Housing Revenue Account system so councils can keep money from selling council homes to reinvest in affordable rural homes, and giving communities a leading role in planning for new neighbourhoods.
Last month, Housing Minister Grant Shapps announced plans to give rural communities a Right to Build, under which they would come together to approve plans for new homes, shops and community facilities to protect and preserve rural village life.
Under the proposals, which will be contained in the Localism Bill, community organisations will have the freedom to give the green light to new local developments without a specific application for planning permission, as long as there is overwhelming community backing in a local referendum.
Any surplus made from the sale or renting of homes would be recycled for the benefit of the community.
Grant Shapps said:
"Far from the Nimbyism that often hits the headlines, up and down the country there are entire communities willing and eager to give the go-ahead for new developments in their area. The countryside must be a vibrant place to live, and cannot be allowed to become a museum. I want to give communities the power to preserve their villages, which are currently struggling to survive because of a shortage of affordable homes.
"With housebuilding at its lowest level in any peacetime year since 1924, some areas are facing a battle to keep schools and GP surgeries open as younger people are forced to move away. The new Community Right to Build could provide the answer. It will give residents the power to give the green light to new homes that are suitable and appropriate for their local area. And because local people are in charge, developments will only go ahead with their overwhelming support."
Published 16 August 2010