Postcard from the field: South Africa
England may have been knocked out, but Peter Kerby finds success elsewhere in South Africa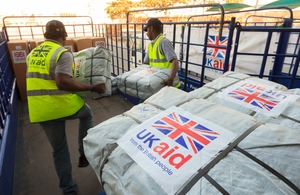 Peter Kerby, deputy head of office, DFID Southern Africa
It's five o'clock on the afternoon of Sunday 27 June. With no television in my house, I've wandered into a local coffee bar to watch the second half of England playing Germany and to write this latest update.
Unfortunately, we are losing by one goal. But given England last (and first) won the World Cup just days after my birth in 1966, I'm hoping some strange and illogical destiny will reverse that over the next 45 minutes. Did I say earlier that I wasn't really a football fan…? Well, there is a slogan here - 'can you feel it?' Unequivocally yes! The valiant exit of Bafana Bafana has slightly dampened but in no way quelled the excitement. Vuvuzelas still rule the streets and stadiums.
Just after dawn this morning, I dropped my two small kids with friends for the day on a farm some 20km out of Pretoria. These winter mornings are special. The pleasure of pale penetrating sunshine, set against the pain of deep cold.
Bumping and scraping along a dusty red road on the way home, I stopped to pick up a mother and her two adult daughters travelling into town for the day. The eldest daughter was Zandile, 25 years old, confident and engaging - even her most opinionated statements couched with a striking smile and warm laugh.
Zandile has moved away from her parents and this rural area but still sees them most weekends. She now lives in Katlehong, arguably the second largest township in South Africa. Though educated to only basic level at school, she has worked for various businesses which has given her opportunities to take up training at night. Zandile now works for an IT firm in Johannesburg - doing well enough to be saving for a small car.
(Now it is 5.26pm. We are three goals behind. As Dostoevsky said - the writer must suffer, suffer and suffer. So I proceed.)
So here was a success story - a capable young woman seizing opportunities which her mother never knew. But Zandile left no doubt how she interpreted the wider story. Yes, she'd worked hard but she had also been lucky. She lived in the township ('…it's still a slum, still a ghetto,' she half smiled - and could have added that Katlehong was seriously over-crowded, beset by high unemployment and often had one toilet serving five or six families). But she has a job, earns enough and has a future. Yet 16 years after the first free democratic elections, why was her story still so unusual? The economy is growing - but where are the jobs? She's been watching the rich stay rich - and the poor stay poor.
Thanks to good macro-economic management, South Africa turned around its failing economy and enjoyed reasonable growth after 1994. But for various reasons, this has largely been 'jobless growth'. If the economy is to remain on track - and society to remain on board with the country's current direction - unemployment needs to be tackled hard. And the risk of failure goes way beyond South Africa's borders, given that the country represents almost half of sub-Saharan Africa's economy.
It's for all these reasons that creating growth and jobs is an area where DFID works closely with South African government and business. For example, between 2007 and 2008, our support helped create 4,000 jobs through a Community Works Programme pilot. A success which government then picked up to create a further 50,000 jobs in 2009. There is a long way to go. But for people like Zandile and her neighbours in Katlehong, a job is the difference between life with a future and life without hope.
Well, this is live blogging. So I interrupt to say that, as you know, we have just lost. Heavily. I had some great lines to use if we'd won. They will have to mature on the hard drive until 2014.
Published 28 June 2010