Positive reaction to new powers brings more communities eager to bring growth, jobs and homes to their neighbourhood
Dozens more communities eager to test radical new rights that will give local people much greater ability to bring growth and shape development…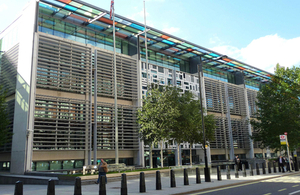 Dozens more communities eager to test radical new rights that will give local people much greater ability to bring growth and shape development in their area, were announced by Decentralisation Minister Greg Clark today.
40 communities - a mix of cities, urban and rural areas - are to join 50 other communities already trialling neighbourhood planning a powerful new right being introduced in the Localism Bill. The positive reaction to the first wave of communities announced last month and developing neighbourhood plans has led to many more communities coming forward.
Neighbourhood planning is a key reform designed to create the conditions for communities to welcome growth by giving local people a real voice in deciding the look and feel of development in their area; from determining the locations of shops, offices and schools to setting standards of design for new housing.
Local people will for the first time be able to decide the types of development given automatic planning permission through a Neighbourhood Development Order. If approved by a local referendum, a council will need to adopt a neighbourhood plan providing it is line with wider ambitions for growth in their area.
Neighbourhood planning complements reforms announced in the Budget to ensure the planning system does everything possible to support economic growth and sustainable development. These measures include allowing communities to share directly in the benefits of growth through the New Homes Bonus.
Greg Clark said:
For too long people have felt alienated from the planning process and had little influence over changes to their area. Neighbourhood planning will help reverse that by putting communities at the heart of shaping developing in their area.

The large number of communities, eager to trial neighbourhood planning proves that localism and growth do go hand in hand. By giving local people a greater say and incentives to benefit from growth, communities will start to welcome development rather than resist it.
The 40 neighbourhood planning front-runners will be led by Local Authorities who will work with community groups and parish councils to prepare draft plans and Neighbourhood Development Orders.
Each of the 40 areas will receive £20,000 towards developing their plan from a £5 million fund set up to help those communities eager to trial neighbourhood planning in 2011/12.
Applications are also being invited from other communities eager to trial neighbourhood planning as part of the fourth wave of frontrunners. Further details can be found at: www.communities.gov.uk/planningandbuilding/planningsystem/neighbourhoodplanningvanguards/.
Map
Unsupported embedding or hotlinking !iframe:
View Neighbourhood Plans Frontrunners- 3rd Wave in a larger map
Notes to editors
1. The Neighbourhood Planning Front Runners will prepare planning documents in close collaboration with community groups and parish councils. These documents will be prepared under the current legal and policy framework ahead of the new provisions for Neighbourhood Planning that will be introduced through the Localism Bill. Neighbourhood Planning will be a radical new right being introduced in the Localism Bill. A detailed guide to the Bill can be found at: www.communities.gov.uk/publications/localgovernment/localismplainenglishguide.
2. When the provisions of the Localism Bill are enacted, Neighbourhood Plans will give communities a much greater say on what gets built, but must be in line with wider ambitions for growth in the council's development plan.
3. Local people will be able to define types of development which will have automatic planning permission. This is known as a Neighbourhood Development Order.
4. If approved by a local referendum, the Neighbourhood Plan will need to be adopted by the council.
5. The 40 Front Runners communities (in brackets) involve Local Planning Authorities for:
Birmingham (Handsworth and Lozells)

Breckland (Attleborough)

Bristol (Redcliffe)

Broadland (Hellesdon)

Broadland (Salhouse)

Broadland (Strumpshaw)

Broadland (Thorpe St Andrew)

Cherwell (Wroxton)

Cheshire East (Congleton)

Cheshire East (Middlewich)

Cheshire East (Sandbach)

Crawley (Three Bridges)

Dacorum (Hemel Hempstead)

East Lindsey (Holton Le Clay and Tetney)

East Lindsey (Mablethorpe)

East Northamptonshire (Oundle)

Enfield (Edmonston Green)

Gateshead (Brandling)

Hartlepool (Elwick and Greatham)

Herefordshire (Leominster)

Herefordshire (Golden valley)

Kensington and Chelsea (Markham Square)

Melton (Asfordby)

Milton Keynes (Castlethorpe, Lake Estate, Stony Stratford and Wolverton)

Newark and Sherwood (Bridge Ward)

North Somerset (Backwell)

Northumberland National Park Authority

Shropshire (Kinnerley)

Shropshire (Underdale, Monkmoor and Abbey)

South Gloucestershire (Hanham)

South Holland (Holbeach)

South Norfolk (Cringleford)

Sunderland (Hetton Downs)

Swale (Faversham Creek)

Telford (Ercall Magna)

Telford (Madeley)

Torbay (Brixham)

West Dorset (Sherborne)

Wirral (Hoylake Village)

Wolverhampton (Bilston Corridor)
Twitter
Keep up to date with the Department by following us on Twitter (external link).
Media enquiries
Visit our newsroom contacts page for media enquiry contact details.
Published 2 June 2011