Positive for Youth Summit
Tim Loughton: "Today's 'Positive for Youth Summit' is an opportunity to begin to build a new vision for young people."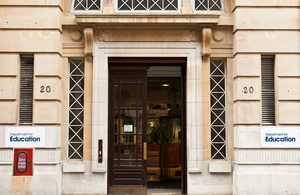 Today, the Department for Education and the National Council for Voluntary Youth Services (NCVYS) are hosting a youth summit for nearly 300 people. Ministers, young people and representatives of the voluntary youth sector, local authorities and the private sector will come together to discuss the key issues facing young people.
The summit, co-chaired by Jack Rowley, Vice-Chair of the British Youth Council, Susanne Rauprich, NCVYS Chief Executive and Tim Loughton, marks the start of a programme of work with the sector and young people to build a new vision for young people and youth services.
Children's Minister Tim Loughton said:
For too long young people in this country have had a bad press. Today's Positive for Youth Summit is an opportunity to begin to build a new vision for young people, one that recognises and supports the valuable contribution every young person can make to society. We know that young people today are facing a range of challenges and we want to tackle these head on. That's why we have brought together over 200 people who work with young people, as well as 50 young people themselves, to generate debate and hear their views on how we should develop services for young people. This work will continue over the coming months to help inform a new policy document to be published later in the year.
Jack Rowley, Vice-Chair of BYC said:
This next generation is facing a tough and uncertain future so it's especially important that we remain Positive for Youth and translate this into support and opportunity. Every day children and young people demonstrate their resilience, creativity and achievement, frequently unrecognised and rarely rewarded. But increasingly many are making a positive difference to their communities and the world they live in, through volunteering or speaking up to influence decision makers. Last year nearly a million children and young people took part in peer elections and today many young representatives have joined national stakeholders to ask questions, challenge decision makers and put forward their perspective on shaping the future. But if this is to be a good news story those views need to be listened to, and acted upon. Investing in youth is investing in all our futures.
Susanne Rauprich said:
The summit allowed government ministers and the youth sector to come together and create a new dialogue on how we can best serve young people. Never before have we seen such a wide spread of government, civil society, public and private sector representatives in one place with a single objective - improving the policies that affects every young person in England.
DfE enquiries
Central newsdesk - for journalists 020 7783 8300
General enquiries - for members of the public 0370 000 2288
Published 9 March 2011